Umpire Masks & Helmets Buying Guide
Apr 29th, 2021
Note: Look for red italics for important safety warnings.
Picking the right umpire mask or helmet depends on what you want out of your umpire headgear. Find the header below that reflects what means the most to you:
You'll also find information below on: Sizing | Replacment Pads & Parts | Throat Guards | Sun Visors | Caps Related
Protection
In general, umpire helmets protect best due to their 360 degree protection. Backswings at all levels and balls from the backstop at some parks do happen. Helmets also deflect more force when balls impact the sides due to their extreme angles. However, helmets will be hotter, heavier and more cumbersome to manage than masks - so they take more getting used to.
WARNING: Not all umpire helmets are built the same. Entry level helmets, not provided here, have thin shells and padding.

Of umpire helmets the most protective helmet tested for baseballs at 100 MPH is the:
Of umpire masks, the most protective are below with reasons listed for the protection upgrade:
In the middle-tier of protection are:
You might notice that we did not include 3 masks in tier 1 or 2:
Supplemental Head Protection
For an additional layer of protection, consider All-Star's Hard Shell Skull Cap with a shorter bill designed just for umpires instead of your traditional umpire cap; or a protective layer that fits inside your traditional cap called the Unequal Uncap Flexshell.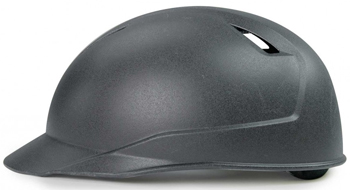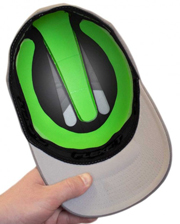 Lightest Weight
The umpire helmets that are the lightest in weight are:




Of umpire masks, you'll find that every brand claims to have a dyna-lite, super-light or featherweight mask, but what's true is that most mask frames now are made of some lightweight material. Our traditional style masks are just under 1.0 to 1.6 lbs (without harness - harnesses typically weigh around 0.3 lbs). A few ounces may not sound like much, but your neck might appreciate a lighter mask over several hours of plate work.
See the complete blog for Best Lightweight Umpire Masks.
BEST IN COMFORT
In umpire helmets, comfort is in the head of the beholder. Within brands, the higher model has padding upgrades and/or is lighter making it more comfortable than the lower. For example:
Umpire masks with leather padding (most Wilson masks on steel or titanium frames and Diamond Big League) are more comfortable and better absorb perspiration. The soft synthetic pads in Wilson Aluminum Dynalite Masks with memory foam pads and Diamond featherweight wick away perspiration. As a result, none of these will slide around your face as you perspire.

Lighter color pads such as doeskin (actually calfskin leather) have the added benefit of being cooler in hotter conditions.
Best Vision
You would be surprised to know that traditional umpire helmets have better vision than umpire masks. The helmets' angled frames sit closer to the face from all sides.
Of umpire helmets, the best for vision are 1-2:
Wilson Helmets
All-Star Helmets
In umpire masks, the best vision ones have a trade-off in protection and vice-versa:
Also, you'll find that silver frame masks and helmets provide a better perceptual vision than that of black frames.
In umpire masks, those with the least vision are the ones that sit farthest from your face. These include the Force3 Defenders and Wilson models with wrap-around pads. Their double-frame and pad thickness - the features that make them more protective - are the (good) reasons for the trade-off.
Best Value

The best value umpire helmet is the All-Star 2500. It is in the midrange of protection, weight and vision. It has a lower price point plus its removable & replaceable padding makes it a better longer term investment than those without replaceable padding (which is not found at that price point).
The best value umpire masks are the ones that strike a compromise in the above benefits, especially protection and vision. If you paid attention, you can probably figure those out by now. Let's put best value in 2 categories of entry-level and advanced-level.
Advanced-Level
Entry-Level
SIZING
While masks are considered one-size-fits all, helmets have a more limited range of hat sizes - roughly 7 to 7 1/2. This is an imperfect measurement given differences in head shapes. The All-Star models are roomier given the Wilson models are intentionally lower profile for improved vision and decreased weight. Therefore, if you have a larger head size or wear glasses, All-Star models could potentially work better.
Umpire helmets by default have a replaceable chin pad. Those with fully removable padding are considered a better longer term investment and include:
Umpire masks have Velcro straps that allow you to replace or upgrade your padding. For optimal safety, you should replace your pads every 1 or 2 years as padding's protective properties diminish with time. For more details on replacement padding, including which pads fit which mask, visit the mask pads buying guide. Need to know how to replace your padding? See our Crew-How-To Video.
REPLACEMENT MASK HARNESSES
All masks come with adjustable harnesses. Multiple universal replacement harnesses are available that can be used on any mask. Learn how to replace your harness in this Crew-How-To Video.

For throat protection, mainly from balls in the dirt, we highly recommend a 4 inch or 6 inch throat guard. These will attach to your umpire mask or helmet to cut down on the gap that results between the bottom of your frame and chest protector. For best safety, we show you where to place your throat guard on your mask and how to size for it in this article. View All Throat Guards. Learn how to install them properly in this Crew-How-To Video.

Some like adding a sun visor (also called a shield) at the top of their mask frame. This adds no protective qualities. It is done mostly for appearance, but it also keeps sun glare out and light rain off your face.
Traditional sun visors will fit traditional umpire mask styles, but will not fit helmets, low profile masks or no-mold magnesium masks due to differences in frame shape. Force3 Defender masks have a sun visor made just for those masks. See each sun visor product page for details. See our Crew How-To Video on proper installation.
caps WiTH helmets & MASKS
You will not need a cap if you wear a helmet, although some have mastered the art of wearing one. Learn how they do it here if you prefer to cover your head & hair with a cap. However, your 4-stitch and 6-stitch caps will stick out of most umpire helmets, leaving the bill exposed beyond the frame for a direct shot.
All of our umpire masks will allow for umpire caps up to 4-stitch bills (combo style) or the All-Star Hard Shell Skull Cap. Designed just for umpires, its bill length is the equivalent a 3-stitch length. Some veteran umpires wear a 6-stitch bill cap under your masks. We warn you to make sure the cap has room between the bill and mask frame for safety's sake. Note that just because you can fit a 6-stitch under one style mask, does not mean it will fit under another. (Learn more about cap bill length & safety.)
*Weight of masks is shown without harness
**PU Leather is a bicast leather (not full grain)
WARNING: Participants in any sports activity assume risk of injury. This equipment may be used to help aid in preventing or reducing the extent of injury. No equipment can guarantee umpire or player safety from injury during participation, and use of this equipment carries no such guarantee. Do not use any umpire equipment that is damaged in any way.
About the Author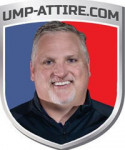 President Jim Kirk
Jim is a leading expert, educator and author on umpire gear, safety & appearance. After playing baseball at Centre College, he worked as a high school umpire. He became involved in E-Commerce while working on an MBA in the early 2000s and bought Ump-Attire.com in 2006, He eventually led it to the leading umpire gear & attire retailer worldwide, a "Best Places to Work in Louisville" honor in 2020 & 2021 and a National Association of Sports Officials (NASO) Preferred Vendor. He maintained a long-standing relationship with Minor League Baseball Umpire Development & Training Academy for 10 years. He serves as an adviser to UMPS CARE Charities, the charity of MLB umpires, served as a 2-term board of director from 2012-2018, and was named their 2015 Ambassador Award recipient. A supporter since the inception of the Wounded Warrior Umpire Academy, he was named to their Board of Directors in 2020.