Baseball Umpire Equipment
Find The Best Selection Of Name-brand Baseball & Softball Umpire Uniforms, Equipment, Shoes & Apparel At Your Level - College, High School, Youth & MLB.
We Are The #1 Online Choice Of Baseball & Fastpitch Umpires Worldwide Since 1997. We Make It Easiest To Shop For Protective Gear, Shirts, Pants, Jackets, Caps & More With The Most Reviews, Videos, Real-time Inventory & Expected Delivery Dates, FREE Shipping Offer & FREE No-hassle Returns On Everything*.
Alan C., Buford, GA
Great pants!! Shade is a little lighter than the Gerry Davis pants but they fit and do not fade like previous version.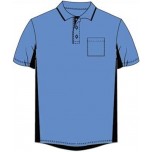 James W., Lake Lotawana, MO
More expensive than others, but probably worth the difference. Correct sizing is appreciated. The collars don't flap around in a breeze near as much as prior models. Wish the short sleeves were shorter, but that is part of having shorter arms I guess.