UMPS CARE Official Leadership Program
Welcome to the UMPS CARE Charities Official Leadership Program Partnership! We are so excited to have this opportunity to assist you in your career as an umpire. Whether baseball or softball is your game, you will find our website helpful when making decisions about your gear and uniforms.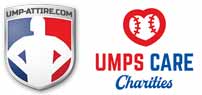 "What comes next? What will I need to umpire?"
We're here to help get you started. This article, Uniform and Equipment Essentials for New Umpires, is our expert opinion when starting a career in umpiring. For specific pieces of your uniform and expert comparisons, see our detailed Buying Guides.

"What size gear will I need? What size umpire cap do I wear?"
Find the right size for you in umpire gear and apparel from our Fitting Room:
"How do I fit this equipment? Am I wearing it right?"
We will show you how from our Video Library featuring Crew How-To's™:

To see your account balance, go to your Ump-Attire.com account.
Contact us or email service@ump-attire.com for assistance from our knowledgeable and friendly staff.
Thank you for being a part of this partnership with UMPS CARE Charites and Ump-Attire.com. With our lead in outfitting your gear and apparel, you will find success in this Leadership Program, on the field and throughout your career.
Read More »
100% Genuine Leather

$109.99

Available in Sizes 15" - 18.5"

From $64.99

$49.99

Was $54.99
You save $5.00!

4-Way Stretch Fabric

$24.99

Was $27.99
You save $3.00!

Ball Bag, Plastic Brush & 3-Dial Indicator - $18.97 Sold Separately

$14.99