Football Referee Equipment
Find Quality Brand-name Football Referee Uniforms, Equipment, Shoes And Apparel.
Ump-Attire.com, The #1 Online Destination For Officials' Sporting Goods, Has Everything You Need Including Shirts, Pants, Caps, Whistles, Flags, Bags, Down Indicators, And Attire.

Christopher Flatt
This is the most comfortable long sleeve shirt I have purchased. You can actually wear cold gear underneath it and still be able to move. It is great. I will be ordering some other items from you in the near future.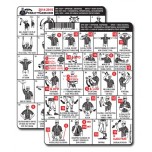 Greg W., Shelby, 0
Got one of these for a quick "cheat sheet" and refresher when taking the 'R' in lower level games. Fit nice inside standard game card holders. Only drawback is having to replace them when rules are added/updated/changed...