Umpire Mask Pads Buying Guide
Oct 19th, 2023
Just as you would replace the tires every 50,000 miles, you want to replace your mask pads at least every 2 seasons. Protect yourself and your mask investment just as you would your car when the tread is low.
We categorize replacement umpire mask pads as mask-specific, traditional and wrap-around. When choosing which replacement umpire mask pads are best for you, first determine if your umpire mask requires a certain type of pads. Most don't, so let's quickly get the ones out of the way that do.
MasK-SPECIFIC pads
Force3 Defender Masks unique double-frame style can only use Force3 replacement pads. Force3 pads only work in Force3 masks.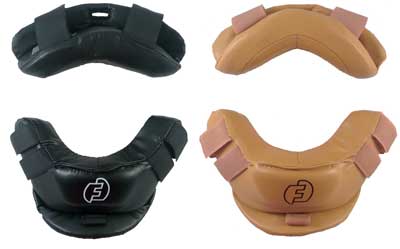 All-Star Magnesium Umpire Masks require All-Star replacement pads due in part to how the pads connect to All-Star's unique frame.

Traditional and Wrap-Around Pads are universal to other umpire masks.
TRADITIONAL MASK PADS
When you think "mask pads", you are sure to envision standard, barrel-type pads - where the top pad is a near mirror of the bottom one. For that reason, it is no surprise that traditional pads make up the category with the most options and brands.

How you separate traditional umpire mask pads are by foam type, fabric and color.
FOAM
The two foam types are memory foam and traditional foam. The main pros or memory foam are comfort and form-fitting to your face. The con is there are dynamics with them related to temperature extremes.
Overview: The two brands of memory foam are Team Wendy and Wilson. Team Wendy's Zorbium foam, the same foam used in military helmets, is firmer, and generally, more protective than the Wilson counterpart in most conditions.

Temperatures: Because memory foam is affected more by temperature extremes than traditional foam pads, both brands will harden in colder temperatures and soften when it's hotter.
Given Team Wendy pads start out firmer, we've found umpires find them too hard, almost stone-like, in colder temperatures. On the other hand, because Wilson's memory foam pads start out soft, they do better in colder temperatures than Team Wendy. However, in hot temperatures, Wilson memory foam pads will soften up, making them less protective than their Team Wendy competition.
If you prefer the comfort and form-fitting features of memory foam, consider your level and temperature when umpiring. The higher your level, the more temperature extremes are a factor in determining which brand you should consider.
Traditional foam does not have the same issues with temperature extremes as memory foam. The traditional foam pads have been the standard for years in umpiring.
FABRIC
We classify 3 types of mask pad fabric: leather padding, soft synthetic fabric and hard polyurethane.
Polyurethane doesn't absorb sweat and will slide around your face as a result. We don't sell those for that reason.
The soft synthetic pads in Team Wendy & Wilson memory foam pads wick away perspiration. The combination results in excellent comfort.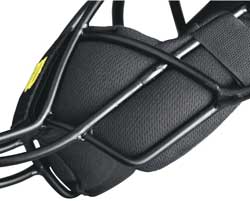 Leather, a natural "fabric", has been the traditional preference of umpires for many years. Found in multiple styles of Wilson non-memory foam, leather is comfortable and is better at absorbing perspiration.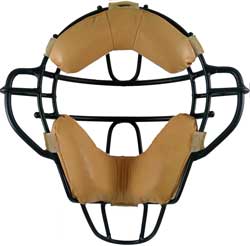 As a result, neither soft synthetic pads nor leather pads will slide around your face as you perspire.
Note: "leather" pads are leather inside (against your face), but polyurethane outer. This is ok as it cuts down on costs without diminishing leather's benefits.
COLOR
In general terms, umpire mask padding comes in black, light and two-tone. Black is the standard, especially for softball umpires, and is the most popular color.
Lighter colors such as tan or doeskin are preferred in hotter temperatures to help keep you cool.
Two-tone comes in 2 different style types. One is considered standard 2-tone and combines the benefits of a light color inner pad for coolness and black to absorb the sun's rays.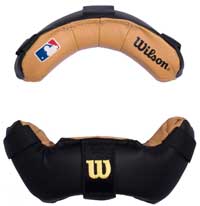 The second style of two-tone are special makeup pads. The Pink & Black Pads match like popular umpire shirt colors and double as special occasion pads - popular for Mother's Day/Breast Cancer Awareness.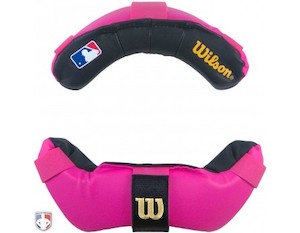 WRAP-AROUND PADS
Wrap-around umpire mask pads are unique in that a portion of the padding wraps around the outer mask frame; hence, the name.
Pros: The benefit of the wrapping is less about impact protection than it is providing protection from the frame itself after the mask shifts upon impact.
Wilson is known for its wrap-around pads. Force3's pads are by definition wrap-arounds, too. Wilson's wrap-arounds are also thicker than its traditional counterparts. The added thickness absorbs more force on impact, making the Wilson wrap-arounds the most protective of the non-specific mask pads.
Colors: Wilson Wrap-Arounds are available in All-Black and Black & Grey Pads. The latter has a distinctive look that were made popular by MLB umpire Alfonso Marquez after Wilson made them at his request.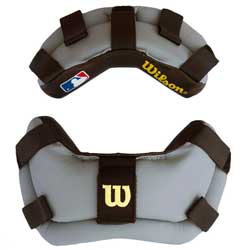 Cons: However, Wilson's wrap-around pads additional thickness does move the mask frame farther from the face and adds more mass around the mouth. This results in slightly less vision and less ease in speaking while wearing the mask.
Optimizing Protection: Our wrap-around padding PSA for both Wilson and Force3 is to double check before each game that the wrap-around part of the padding is in the proper location around the frame. Our Ty Unthank did a great, short video (below) that shows how to properly align you wrap-around pads.
WHEN TO REPLACE
Please be aware that your padding's protective properties will diminish with time. For safety's sake, it is best practice to replace your pads no less than once every 2 years.
HOW TO REPLACE
With any umpire mask, you have the ability to replace or upgrade your padding in a few easy steps. If you need help, see our video below on replacing your pads.
About the Author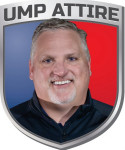 President Jim Kirk
Jim is a leading expert, educator and author on umpire gear, safety & appearance. After playing baseball at Centre College, he worked as a high school umpire. He became involved in E-Commerce while working on an MBA in the early 2000s and bought Ump-Attire.com in 2006, He eventually led it to the leading umpire gear & attire retailer worldwide, a "Best Places to Work in Louisville" honor in 2020 & 2021 and a National Association of Sports Officials (NASO) Preferred Vendor. He maintained a long-standing relationship with Minor League Baseball Umpire Development & Training Academy for 10 years. He serves as an adviser to UMPS CARE Charities, the charity of MLB umpires, served as a 2-term board of director from 2012-2018, and was named their 2015 Ambassador Award recipient. A supporter since the inception of the Wounded Warrior Umpire Academy, he was named to their Board of Directors in 2020.