Umpire Mask Buying Guide
May 17th, 2017
Note: This mask guide is currently a little dated and is undergoing revisions. You may still find information of interest below in the meantime.
-Jim
With umpire masks, you normally pay more for lighter masks - especially those made with titanium frames, greater protection, better padding and increased vision.
Lightest Weight
You'll find that everyone claims to have a dyna-lite, super-light or featherweight mask, but what's true is that most mask frames now are made of lightweight material. Our traditional style masks are just under 1.0 to 1.6 lbs (without harness - harnesses typically weigh around 0.3 lbs).
Our lightest mask is a close race between the Diamond iX3 Silver Feather Weight Umpire Mask and the ever-so slightly lighter Champro Pro-Plus Magnessium Umpire Mask. A few ounces may not sound like much but your neck might appreciate a lighter mask over several hours of plate work.
See the complete blog for Best Lightweight Umpire Masks.
Most Protection
No doubt, hockey style masks or helmets offer the most protection through coverage for the entire head and more angles for greater deflection. Although it's made of lightweight materials, the helmet will weigh more than a traditional style umpire mask. However, umpires tell us weight is better distributed (rather than at the front) making the helmet feel less heavy.

Of the traditional styles, most umpire masks come with extended frames for good ear and throat protection.

All Wilson models come with padding that wraps slightly around the outer frame for additional cushion in that area not seen on other brand masks. And because standard profile masks have slightly more protection with its more curved profile than the flatter low profile with less angles, Wilson Dyna-lite models with their standard profiles and wrap-around padding offer the most protection at all levels. Other traditional style masks are generally recommended for any levels through high school competition.

The Diamond Featherweights and Champro Magnessium also have a "U-bar" at the top to help provide more protection from foul balls heading across the top of your head.
Most Comfortable Padding
Umpire masks with leather padding (most Wilson masks on steel or titanium frames and Diamond Big League) are more comfortable and better absorb perspiration. As a result, they won't slide around your face as you perspire. Doeskin (actually calfskin leather) has the added benefit of being cooler in hotter conditions because of the lighter cooler.
Best Vision
Some umpire masks are made with lower profiles which mean the frame sits closer to your face. This results in around a 15% increase in your field of vision through the main bars although it does have the downside of making it flatter and more susceptible to less deflection and more force. One low profile masks is the Wilson Chrome Moliben.

A hockey style mask, such as the Shock FX 2.0, also sits closer and, therefore, offers even better vision than most traditional style masks.
Best Value
For a little additional cost, you can get synthetic padding with more moisture wicking and absorbent properties with the Wilson Dyna-Lite. As the Wilson Dyna-lite's padding is more durable than other padding and has a wrap-around design, it is solidly our best value mask option with the only downside being that it weighs 1/2 of a pound more than our lightest weight masks.
From there, most go with the popular iX3 masks from Diamond in either a silver or black frame. The aluminum alloy provides lightweight protection on a reliable frame at a budget price.

Best value helmet is the steel version of the Wilson Shock FX 2.0.
Harnesses and Replacement Padding for Masks
All masks come with adjustable harnesses. Replacement harnesses are available with the MLB logo or no logo for less and can be used on any mask.

Masks also have Velcro straps that allow you to adjust or easily replace your padding. With any umpire mask or helmet, you have the ability to replace or upgrade your padding on most brands and styles. Many choose to do this off the bat prefering one type of frame but another type of pads. Typically, replacement paddings fit fine (but not always perfect) on any frame.
The Team Wendy pads are a popular, comfortable upgrade at any level up to major league. For safety sake, it is best practice to replace your pads every 1 or 2 years as padding's protective properties diminish with time.
caps and Other Accessories

All of our masks except the low profile masks will allow for caps of 2 inch (plate caps) to 4 inch bills (combo). Some umpires even wear a tighter 6-stitch bill cap.
You will not need a cap if you wear a helmet, although some have mastered the art of doing so.
Some like adding a sun visor or shield at the top of frame. It will fit most umpire mask styles, but will not fit lower profile masks or helmets due to a difference in frame shape.

If you want more protection for your neck, considering a 4 inch or 6 inch throat protector that will attach to the bottom of your umpire mask or helmet is an excellent idea.
Umpire Masks
Weight
(without harness)
Size* or Shell
Padding Type
Frame/Low Profile
Protection
Helmets
Wilson Shock FX Titanium Helmet #A5590
2.1 lbs
ABS
Leather chin and coolmax liner
Titanium/Yes
Complete
Wilson Shock FX Steel Helmet #A5591
3.1 lbs
ABS
Leather chin and coolmax liner
Steel/Yes
Complete
All-Star System 7 Pro Model Helmet #MVP4000-SL
2.75 lbs
Poly-carbonate
Vinyl Nitrile forehead band and ArmorClad liner
Steel/Yes
Complete
| | | | | | |
| --- | --- | --- | --- | --- | --- |
| Masks | | | | | |
| | | | | | |
| Diamond iX3 Featherweight Umpire Mask #DFM-UMP | 1.0 lb | 9 1/2" | Quik-Dry Synthetic | Tubular Steel Alloy/No | Ears, Throat plus U-Bar |
| Diamond Sliver iX3 Featherweight Umpire Mask #DFM-UMP-SV | 1.0 lb | 9 1/2" | Quik-Dry Synthetic | Aluminum Alloy/No | Ears, Throat plus U-Bar |
| Wilson MLB Titanium Mask with Two-Tone Pading #A3007T | 1.1 lbs | 10" | Full Grain Leather Inner/PU** Leather Outer | Titanium/No | Ears and Throat |
| Wilson MLB Two-Tone Titanium Mask #A3007T | 1.1 lbs | 10" | Tan Leather Inner/PU** Leather Outer | Titanium/No | Ears and Throat |
| Wilson MLB Tan Titanium Mask #A3009T-TAN | 1.1 lbs | 10" | Natural Tan Leather | Titanium/No | Ears and Throat |
| Wilson Chrome Moliben Umpire Mask #A3077 | 1.4 lbs | 10" | Tan Leather Inner/PU** Leather Outer | Alloy/Yes | Ears and Throat |
| Wilson Dynalite Umpire Mask #A3017 | 1.5 lbs | 10" | Poly Satin Inner/Vinyl Outer | Steel/No | Ears and Throat |
| | | | | | |
| Champro 62B Mask | 1.1 lbs | 10" | Vinyl | Steel Tube | Ears and Throat |
*Size is from the top of the top padding to the bottom of the bottom padding as measured from the inside of the mask. It does not include frame.

**PU Leather is a bicast leather (not full grain)
About the Author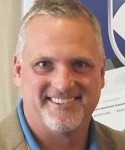 President Jim Kirk
Jim has had a passion for sports since he can remember. After playing baseball at Centre College, he worked as a high school umpire in Kentucky - during the Elbeco shirt years. He became involved in E-Commerce while working on an MBA in the early 2000s and bought Ump-Attire.com in 2006. Jim is proud of Ump-Attire.com's success, staff and sponsorship of various groups including Minor League Baseball Umpires, Minor League Baseball Umpire Training Academy and UMPS CARE, the charity of MLB umpires. He served on their board of directors and was named their 2015 Ambassador Award recipient.