10 Most Popular Football Referee Accessories You Won't Find Just Anywhere
Aug 16th, 2016
We were curious. What items do we have that, more likely than not, you can not find as readily anywhere else? And of those products, what are the top 10 trending in popularity this season? Here goes (in no particular order):
All Weather Football
Information Cards
Be an officiating magician who can record game information in a downpour of rain or snow (or with sweaty hands). From "Rite in the Rain", also look for their All-Weather Pen under "Writing Materials" recently featured in REFEREE Magazine.
Smitty Whistle / Accessories Bag
One-of-a-kind 7" square bag made with dye sub referee shirt material is small enough to store your whistles and lanyards or large enough to keep all of your smaller accessories together.
Down Indicator
This trending item absorbs more perspiration and is 2" longer than standard size sweatband indicators.
RefSmart Game Day Referee Towel
Be a master at keeping footballs dry with this towel that is always by your side. Has a water-
repellent
and an absorbent side with a carabiner clip.
Related Articles
About the Author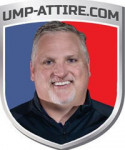 President Jim Kirk
Jim is a leading expert, educator and author on umpire gear, safety & appearance. After playing baseball at Centre College, he worked as a high school umpire during the Elbeco shirt years. He became involved in E-Commerce while working on an MBA in the early 2000s and bought Ump-Attire.com in 2006, He eventually led it to the leading umpire gear & attire retailer worldwide and a "Best Places to Work in Louisville" honor in 2020. He maintains long-standing relationships with Minor League Baseball Umpire Development & Training Academy and the National Association of Sports Officials (NASO). He serves as an adviser to UMPS CARE Charities, the charity of MLB umpires, served as a 2-term board of director from 2012-2018, and was named their 2015 Ambassador Award recipient. A supporter since the inception of the Wounded Warrior Umpire Academy, he was named to their Board of Directors in 2020.