Pro Grade Magnetic Umpire Card Holder Featured in Referee Magazine
May 27th, 2022
Each month Referee Magazine features a product that is innovative for sports officials.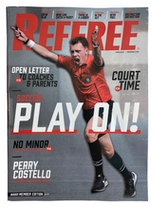 In the June 2022 Issue, Referee Magazine featured the UMPLIFE Pro Grade Magnetic Umpire Card Holder. Referee Magazine said,
"Struggling to keep your lineup cards neat and organized? Don't have something sturdy to write on when taking changes? The Pro Grade Magnetic 'Book' Style 6" Umpire Lineup Card Holder can help. Designed by a veteran umpire, this holder has magnets to keep your lineups and game notes in place and features a firm writing surface to take changes easily. The no-rip spine also allows you to easily secure your writing utensils. It sells exclusively at Ump-Attire.com"
We are thankful to Referee Magazine for showcasing this quality wallet, made by a sports official, Ray Brownlie, owner of UMPLIFE.
If you're a subscriber to Referee Magazine, you'll find the complete feature on page 45.

Not a subscriber? We highly recommend it. Sign up today here.

About the Author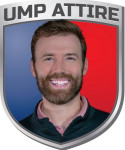 Marketing Specialist, HS & College Umpire Ty Unthank