Eastern Kentucky Officials Back on the Field After Flooding with Ump Attire's Help
Aug 28th, 2022
As a Harlan County native who has devoted much of his life to sports, Ump Attire President Jim Kirk knew it was time to act when he heard the news about devastating flooding in eastern Kentucky that not only claimed 39 lives, but also left six multi-sport officials without a home.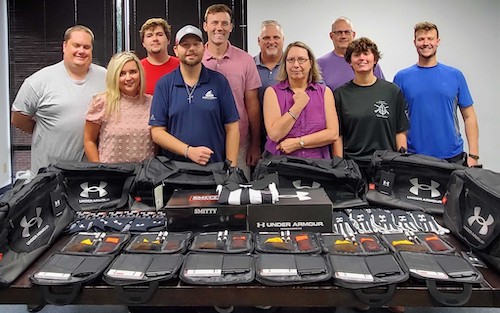 "Kentucky high school officials have stood behind us for over 10 years through our relationship with the Kentucky High School Athletic Association (KHSAA). We wanted those six, three of which their homes were completely swept away, to know our company and our staff stand behind them more than just on the field or court," said Kirk, whose Louisville-based company provides clothing for game officials.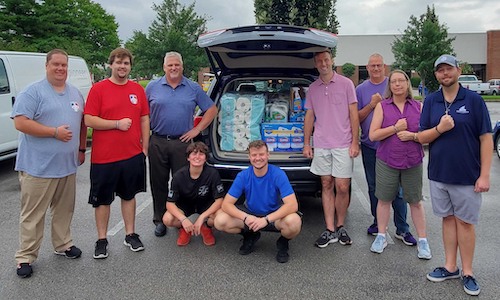 The company served as a drop-off location for Kentucky and Indiana officials to donate water, cleaning supplies, paper towels and toilet paper. Kirk, along with his son, Ben, and staff member Hunter Fry and his dad, Craig, a retired athletic director from Western Hills High School, drove the supplies to Hazard where those officials from Jackson, Whitesburg and Neon could pick up them up.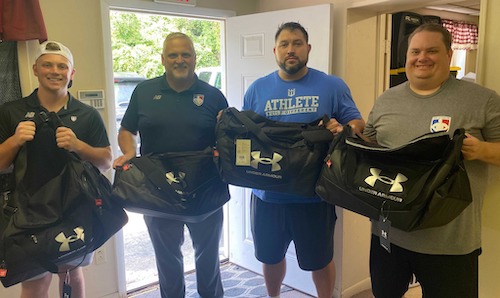 Ben & Jim Kirk, Kyle Maggard, and Hunter Fry
The company also provided football officiating gear and shoes for the six officials who lost their homes in the flooding. They included Chad Bates, Chase Fugate and Austin Johnson whose homes were completely and Jake Johnson, Jody Johnson and Derrick Wright whose homes were destroyed.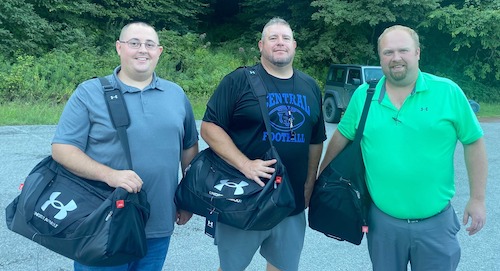 Austin Johnson, Chad Bates, and Derrick Wright
Chase, Austin, Jake and Derrick are also umpires. Chad and Jody are also basketball officials. Their gear and uniforms were also lost or damaged. Kirk said those uniforms would also be replaced in time for their seasons.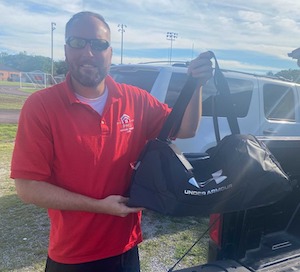 Chase Fugate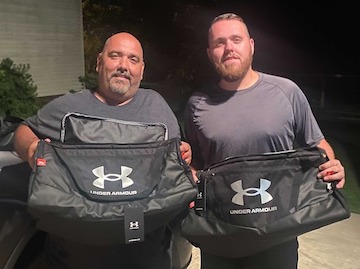 Jody and Jake Johnson
Regional official assigning secretary Kyle Maggard helped coordinate the work between the company and the officials.
"Although these officials lost everything, they were back on the field to start their seasons last Friday night", Maggard said. "That is a testament to how dedicated these officials are to their craft, high school athletics and their communities," Kirk said. "We are glad to have played a role in getting them back out there."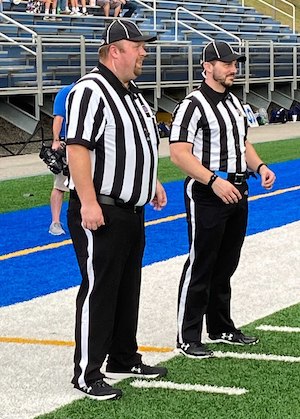 This was the second time in a year Ump Attire answered the call for Kentucky disaster relief. When 11 counties were in Western Kentucky were affected by a tornado that claimed 57 lives, the company donated a weekend of its sales proceeds there.
Kirk said Ump-Attire would continue to help, noting that four of the six are also umpires and two are basketball officials. We plan to continue to help and may make an additional run or two," he said. "Many in the area are expected to be without water for several months, and local stores have no water on their shelves."
Related Articles
About the Author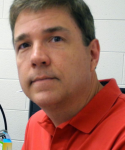 Contributing Writer John Henson
John Henson has been a sportswriter for over 35 years. He has covered sports for the Harlan Daily Enterprise, the Cats' Pause and harlancountysports.com. He has won numerous Kentucky Press Association awards during that time and teaches writing at Harlan County High School.