Which Flag Patch Do I Wear On My Official's Uniform?
Jun 14th, 2023
In honor of Flag Day, we explain which flag patch you should apply to your sports official's uniform.
STyles
We offer 4 different styles of the US Flag patch. Patches with a White border or Gold border, and in a left to right (traditional) orientation or in a reverse orientation.
orientation & PLacment
In general, flag patches should be worn horizontally on either your left or right sleeve, or on the yoke (back of shirt below collar) of your shirt.
On your left shirt sleeve, use the traditional orientated US Flag patch. Most officials wear their flag patch on this sleeve.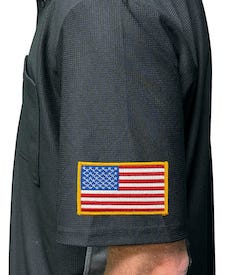 On your right shirt sleeve, use the reverse orientated US Flag patch.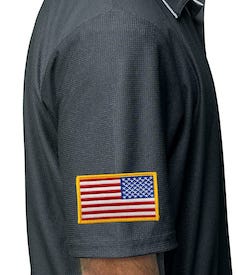 At the yoke of your shirt or on the front, the traditional orientated US Flag patch is appropriate.
The reason for these positions are the Union (stars), should be positioned forward. The flag is viewed as charging forward toward the battle.
border color
In regards to the color of the border, a Gold border is generally reserved in the military for Parade uniforms but in sports officiating, this decision between a Gold or White border is an association or league preference.
Thank you for taking the time to learn which US Flag Patch is best for your uniform! To see how to attach your Flag Patch, watch this Crew How-To: Properly Apply Numbers & Flags To Your Uniform.
About the Author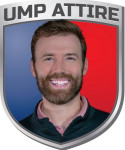 Marketing Specialist, HS & College Umpire Ty Unthank