Multi-Sport Official's Secret to a Military-Tight Shirt Revealed
Sep 7th, 2016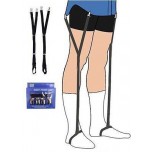 Ever wonder how the referees and umpires keep their shirts tucked in and have that "military" style where it looks tight and crisp? For years, I've always thought, "Wow! That looks great!"
First impression doesn't happen just once in officiating. It happens every single time you step out onto the field. Coaches, players and fans are checking you out. "What do you look like in your uniform? Does your shirt fit, is it tucked in?"
Unfortunately, we're stereotyped before the game even starts. We're always trying to stay ahead of the game and keep our officials looking their ultimate best!
We've added another product that I feel may be one of the best for you to wear underneath your referee and umpire shirts. It's called, "Hero's Pride Foot Loop Shirt Holder." Some people refer to them as "gator clips, shirt stays or shirt clamps." It's one of the first products I've recommended that we carry and one that I would attach my name to it as something that's a "must have" for Scott Kennedy.
The Hero's Pride Foot Loop Shirt Holder is an adjustable, elastic strap that has a "V" shaped end with a clamp attached to each point of the "V." At the bottom of this strap is a foot loop that you'll anchor your foot in, after you've put on your sock, but before putting on your pants. You can adjust the length as to how tight you want the appearance of your umpire or referee shirt to look.
We only carry this in the color "black," as it's not noticeable underneath umpire or referee pants. The color blends in with your shoes and socks. Trust me, if you could see these, then I would not be wearing or recommending these to you for your games.
As an active basketball referee and baseball umpire, I've been around and round with trying different ways to keep my referee and umpire shirts tucked in before and during my ballgames throughout the years.
Being a tall guy at 6'3", I've tried to buy the pants that have the rubber grips seamed into the waistline and that was ok, but not great. I've even bought and wore an additional pair of compression shorts to tuck in my uniform shirts and that was just average. Every game, at halftime, I'd have to tuck my uniform shirts back into form to try and give them that "professional" image for the second half.
During baseball games, I'd try and put my hands into my pockets between innings and pull the shirt down from inside my pockets without trying to be obvious.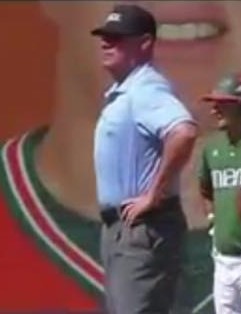 As referees and umpires, the spotlight is on us with every call. I've always been looking for the PERFECT item to help me get that crisp military uniform look. As I mentioned earlier, appearance counts in every single game and every single call. With the world of digital media at the higher levels and the cell phone capabilities to video a game, you never know who's watching. You lose all credibility when you make a controversial call and your umpire or referee shirt looks like half is tucked in and the other half is falling out.
I've worn these for the last 2 seasons and will continue to wear them every year. I've never had an issue with the clamps breaking, rusting or coming undone during a game; even when I've had to get animated and sell a call that's controversial. I've refereed 3 basketball games in a row, umpired a doubleheader on the bases & I even wear these when I'm umpiring behind the plate. It's easy to adjust the strap and put the loop through the last shin guard buckle. For those 3 hours, my umpire shirt looks just as good in the 9th inning as it did for the first pitch in the 1st inning.
Therefore, I HIGHLY recommend that you buy a set of footloop shirt stays today to look YOUR best!
Related Articles
About the Author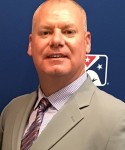 NCAA and Former Triple-A Umpire and KHSAA Basketball Official Scott Kennedy
Scott had a 9-year Minor League Baseball umpire career, rising to the Triple-A level (PCL). He worked multiple league All-Star games, playoffs and championship series plus MLB Spring Training, Arizona Fall League and 2003 Futures Game plate umpire. He is a graduate of the Wendelstedt Umpire School where he instructed for 8 years. Currently, he is a NCAA umpire in the ACC and SEC with multiple NCAA Regionals, Super Regionals and multiple Conference tournaments; is an umpire clinician nationwide for NCAA conference coordinators and an Instructor for MLB Umpires Camp. In 2018, Scott was hired as the Supervisor of Umpires for the Mid-South Conference (NAIA) and placed on the Umps Care Charities Board of Directors. He served as Ump-Attire.com's Business Development Specialist from 2016-2019.