Get in the Slot for Safest Umpire Plate Position
Apr 26th, 2010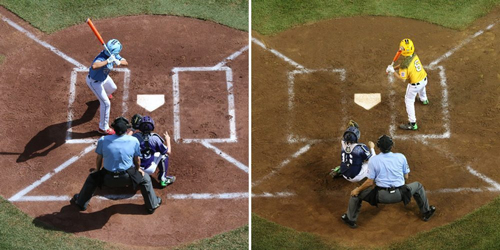 We talk a lot about which umpire gear is more protective than others. Certainly, Wilson's wrap around padding is more so than other brands, hard shell protectors are more so than soft ones as well as other things previously discussed. Of course, that is assuming you get hit at all. What if you could simply get hit less often?

In a recent conversation with 10.5-year MLB Umpire Veteran Marvin Hudson during Spring Training in Fort Myers, we discussed this very issue. His advice is simple, "You want to get in the slot and get as low as you can."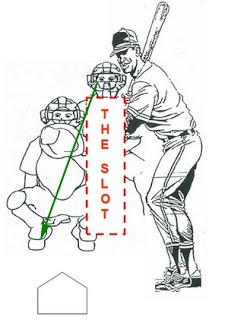 Slot Position
If you don't know, the slot is the position in-between the catcher and the batter. In other words, if you are new to umpiring, resist standing directly behind the catcher and staying high. If you do, you are going to take your fair share of foul balls.

While in the slot, you could choose whatever stance is more comfortable to you from the scissor stance to the more popular "box" stance. The point here is that you are in the slot and low. There, you are more tucked away from foul balls and better able to use your catcher for protection.

"How low do you recommend?, I asked Marvin. "For me", he said, "I like to try to get my head down next to the catcher's ear". That's pretty low.

And for that outside corner that is sometimes troublesome for umpires in the slot, Marvin replied that with experience, "that's simply where your judgment comes in".

Thanks to Marvin for sharing some great advice to assist umpires of all levels be more protected behind the plate.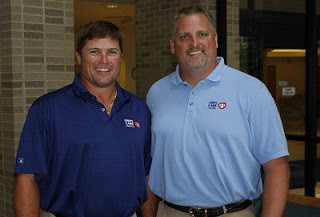 (Marvin and I at UMPS CARE Cincinnati Children's Hospital Event in Sept. 2009)

If you are an umpire who is looking to emulate someone with excellent plate mechanics and presence behind the plate, Marvin is a great one to watch. He is on Derryl Cousins crew this year and will be in Milwaukee tonight through Wednesday for their series against Pittsburgh.

Slot graphic courtesy of the California District 25 Little League Umpires originating from Ray Hennessy from Ventura, California, which was produced for Little League Baseball's Western Region.
Related Articles
About the Author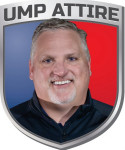 President Jim Kirk
Jim is a leading expert, educator and author on umpire gear, safety & appearance. After playing baseball at Centre College, he worked as a high school umpire. He became involved in E-Commerce while working on an MBA in the early 2000s and bought Ump-Attire.com in 2006, He eventually led it to the leading umpire gear & attire retailer worldwide, a "Best Places to Work in Louisville" honor in 2020 & 2021 and a National Association of Sports Officials (NASO) Preferred Vendor. He maintained a long-standing relationship with Minor League Baseball Umpire Development & Training Academy for 10 years. He serves as an adviser to UMPS CARE Charities, the charity of MLB umpires, served as a 2-term board of director from 2012-2018, and was named their 2015 Ambassador Award recipient. A supporter since the inception of the Wounded Warrior Umpire Academy, he was named to their Board of Directors in 2020.