Why the NOCSAE Standard Doesn't Help Umpires / Follow These 5 Steps Instead
Sep 3rd, 2020
NOCSAE Overview
Skull fracture. That's the NOCSAE standard. Prevent a skull fracture, your product passes. Not prevent one, no pass.
That's 2 NOCSAE grades only: Pass or Fail.
What you will be surprised to hear is that only helmets are tested for NOCSAE. Not traditional masks, as it must be all-around protection to even earn a pass/fail under their standard.
Below, I elaborate on why NOCSAE standards, while necessary, are not helpful when it comes to umpire head gear. (Taken from a response to Matt Arcovio's Umpire-Empire.com's post about the "low bar of NOCSAE")
UMPIRE-EMPIRE POST (PART 1)
"I like that you discuss the low bar of NOCSAE. I want to echo what you said is that when you become a part of NOCSAE, you agree that you will not share your index numbers. I find that interesting and somewhat counter intuitive. Or just plain not helpful.
The only thing I would like to elaborate on, you cannot NOCSAE certify a traditional mask...only a helmet that covers all the way around.
To be honest, given that we would only carry helmets that are NOCSAE certified and given there are no ratings outside pass or fail, we do not give all that much credence to NOCSAE. Obviously, we want to carry helmets that at the very least protect against skull fractures.
Add to it that a smaller percentage of umpires wear hockey style helmets compared to traditional masks, NOCSAE just does not have that much bearing on the protective industry as it relates to umpires.
Umpire-Empire.com Post Part 2
So, I will take a shortcut and just tell you the cold hard and fast rules of protecting yourself from a head injury (or mitigation from a head injury). It's as simple as 1-2-3-4 (there is a 5 but is harder).
Get as far away from the baseball as possible (aka in the slot or could also be back...see Joe Brinkman)


Wear as much protective layers including padding on your head that is as deflective and/or protective in as many areas as possible without being unreasonable. (HSM, skull cap or Uncap - could also be called an "Incap" - but being careful that some HSM's & their layers are not really all that protective).


Don't be stupid. This includes not replacing your padding often, building those bridges with your bill of your cap between your frame and head or trying to be tough by not getting off the field when you need to (after a head shot).


RICE just like you do with a bruise or muscle pull if you take a shot to mitigate potential damage. (except you can't do "C")

R. REST - This means get off the field for one. Heat can exacerbate bleeding (and just being active can cause heat, so it doesn't have to be hot temperature wise). Besides, another head shot in the same game could be catastrophic. Don't drive home. Limit your screen time (using your phone or even watching TV is working your brain, and it's definitely not resting it). Don't do algebra. Etc. You get the picture. REST.

I. ICE - Ice your brain (All Star's Cryohelmet is the best way to do this.). And when you ice something, do it multiple times. Icing is not a one-time thing.


This is the hard, advanced one that I learned from Dr. Marc Hilgers who looks after the MiLB umpires after they have received concussions. That is to strengthen your neck muscles.
(Oh wow. Everyone just stopped reading.)

Dr. Hilgers shared that concussions are typically impacted more by the whiplash that occurs when you take a shot, not the shot itself. The stronger your neck muscles are, the less whiplash you will receive. You'll have to Google "how to strengthen neck muscles" to find how to do that.
POSTSCRIPT
You'll not find anything at NOCSAE about any of this. Why? Because 4 out of 5 have nothing to do with the protective apparatus itself.
I made you look to confirm. 4 out 5. So, I'm with @Matt Arcovio on this. NOCSAE = MEH"
Related Articles
About the Author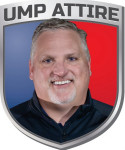 President Jim Kirk
Jim is a leading expert, educator and author on umpire gear, safety & appearance. After playing baseball at Centre College, he worked as a high school umpire. He became involved in E-Commerce while working on an MBA in the early 2000s and bought Ump-Attire.com in 2006, He eventually led it to the leading umpire gear & attire retailer worldwide, a "Best Places to Work in Louisville" honor in 2020 & 2021 and a National Association of Sports Officials (NASO) Preferred Vendor. He maintained a long-standing relationship with Minor League Baseball Umpire Development & Training Academy for 10 years. He serves as an adviser to UMPS CARE Charities, the charity of MLB umpires, served as a 2-term board of director from 2012-2018, and was named their 2015 Ambassador Award recipient. A supporter since the inception of the Wounded Warrior Umpire Academy, he was named to their Board of Directors in 2020.