Calling Balls/Strikes from Behind the Mound? Follow an Easy Safety Tip
Jun 6th, 2020
WHAT THIS ARTICLE IS NOT: This article is not a recommendation for umpires to call balls and strikes from behind-the-mound, nor is it a recommendation for a 1-man system. It is for those who are doing so in any system.
STAYING SAFE ANNOUNCEMENT from line drives if required and willing to work behind the mound.
BacK OFF FROM THE MOUND
Brent Rice who is in charge of officials at the MHSAA (Michigan) and former administrator and instructor at the Wendlestedt Umpire School shared this on an "Umpiring through COVID" Zoom call with the American Sports Officials, Inc.
(Paraphrasing) Distance is not as important as angle. You can get farther back from the mound and still be just as effective calling balls and strikes than if you were hugging the mound.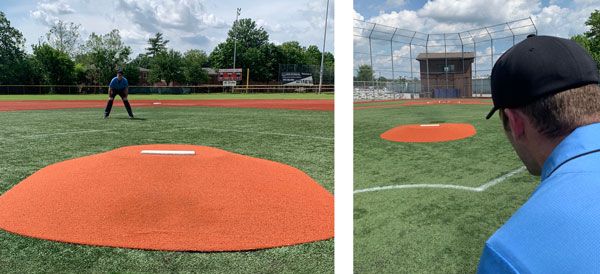 In other words, find the distance behind the mound that works best for you from both an accuracy and safety standpoint. Backing off helps give you more time to react to a line drive.
specific Recommendations
John Gallante, President & Assignor of Tri-State Elite Umpire Association, outlines specific recommendations in a 2-man system based on Brent's guidance:
"To adhere to social distancing guidelines, we want to best prepare our umpires for any possible scenario.
If that includes calling balls and strikes behind the mound, I would recommend 10-12 feet back when we have a potential steal of 3rd base. Otherwise, I would prefer our umpires 2-3 steps deeper.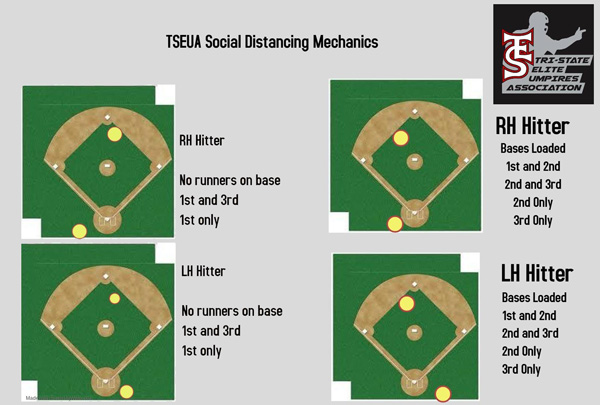 The position should change slightly based on age, mobility, etc."
John provides a great mindset for social distancing in this article.
SUPPLEMENAL PROTECTION
Brent Rice added:
(paraphrasing) And if you feel you need more safety - although it shouldn't be necessary to wear plate gear - there is supplemental head protection that fits inside your cap.
The supplemental protection Brent is referring to is the Unequal Uncap Protective Flexshell.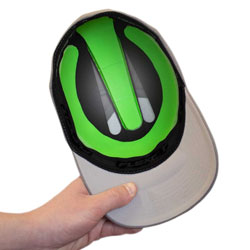 Related Articles
About the Author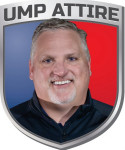 President Jim Kirk
Jim is a leading expert, educator and author on umpire gear, safety & appearance. After playing baseball at Centre College, he worked as a high school umpire. He became involved in E-Commerce while working on an MBA in the early 2000s and bought Ump-Attire.com in 2006, He eventually led it to the leading umpire gear & attire retailer worldwide, a "Best Places to Work in Louisville" honor in 2020 & 2021 and a National Association of Sports Officials (NASO) Preferred Vendor. He maintained a long-standing relationship with Minor League Baseball Umpire Development & Training Academy for 10 years. He serves as an adviser to UMPS CARE Charities, the charity of MLB umpires, served as a 2-term board of director from 2012-2018, and was named their 2015 Ambassador Award recipient. A supporter since the inception of the Wounded Warrior Umpire Academy, he was named to their Board of Directors in 2020.