Contusions and Concussions - An Umpire's Most Common Injuries
Jun 23rd, 2014
Mark is the medical coordinator for Minor League Baseball Umpire Training Academy (MiLBUTA). These tips came from discussions with Mark and his talk "Common Injuries for Umpires" given at the MiLBUTA.
Injuries happen and the only way to really prevent them is to watch the game on your television! Contusions and concussions are two of the most common injuries for umpires so it's best to be prepared and know what to do in these situations.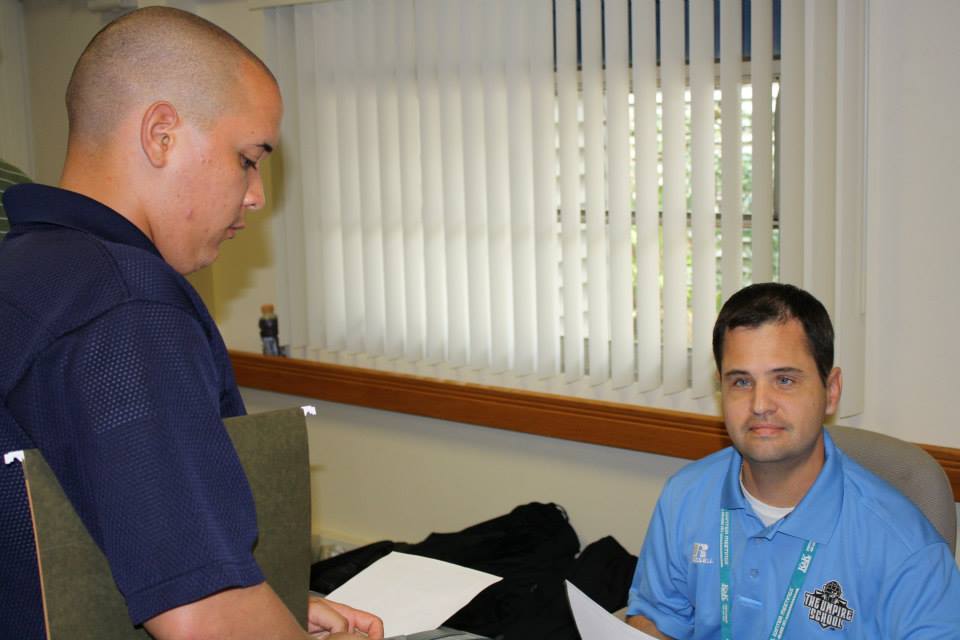 Here's Mark at The MiLBUTA in 2014
Contusion:
Limit your risk by getting in the slot between batter and catcher, not over the catcher. This will move you out of harm's way. Make the most of your umpire protective gear by having equipment that fits and wearing it correctly, too.
If you do get hit, Stubby says there are three ways to handle contusions:
1. Most will be minor but watch your bruises closely.
2. Use the RICE method (rest, ice, compression, elevation)
3. Watch for signs of blood clots. Symptoms of blood clots may include swelling, warmth, redness and pain. The main concern is a clot resulting in a loss of blood flow (ischemia). In an arm or leg, you may experience weakness, or loss of sensation, paralysis or the limb may appear white.
Mark preaches listening to your body, and if you are concerned about a contusion, consult your medical professional.
Concussions:
To prevent a concussion, here are some things you can do:
Set up behind the plate in the slot, decreasing the likelihood of sustaining a blow to the head.
Wear all-around protection in an umpire helmet that is in good condition, fits correctly and covers the entire skull.
Replace umpire mask pads every year (if you wear a traditional face mask) due to ozone and sweat breaking down protective materials.
Make sure you are alert at all times while on base.
What do you do if you do get hit? A concussion is actually a bruise on your brain and is not to be taken lightly.
It's an injury that causes temporary physiological changes to the chemistry of the brain and can be caused by a blow to the head from a ball, a bat or a player.
Mark lists 5 things to do and not to do if you think you may have a concussion:
1) Don't hide it. Report it.
Never ignore a blow to your head or your partner's, no matter how insignificant you think it may be. If you have a trainer or medical professional, report it. If you don't, tell the proper authority within your group, whether that be an assigner or other as assigned.
Do not return to participation in a game, work out or other physical activity with symptoms.
The sooner you get checked out, the sooner you may be able to return to umpiring.
2) Be aware of the symptoms.
Symptoms present differently in each individual. One person may only have 2 or 3 symptoms and someone else, a different set of symptoms.
3 Important things to know:
1) You don't have to lose consciousness in order for it to be a concussion.
2) Impact does not matter. A light blow where an umpire appears only lightly dazed could still be a concussion
3) Concussion symptoms do not always appear immediately. Symptoms may appear as much as 4 or 5 days later.
Concussion symptoms may include:
-Mental fogginess (most common)
-Amnesia
-Confusion
-Headache
-Numbness
-Loss of consciousness
-Balance problems
3) Get checked out.? A medical professional can tell you if you have had a concussion and when you are cleared to return to umpire.
4) Take time to recover. ?If you have had a concussion, your brain needs time to heal. While your brain is still healing, you are much more likely to have a repeat concussion. Repeat concussions can cause permanent brain damage, and even death.
5) Don't drive home.? And don't let your partner drive home. Driving with a concussion is like driving drunk, and becomes a safety concern for himself and others.
We hope you stay safe out there; but if you do get hit ... now you know what call to make!
Related Articles
About the Author

Medical Coordinator - MiLB Umpire Training Academy Mark Stubblefield
Mark coordinates the preventative care and injury treatment for MiLB Umpire Training Academy students while offering expertise in fitness, nutrition, health and wellness. He currently works with Minor League Baseball umpires throughout the United States and Canada and joined the MiLB staff in February 2011, after a 10-year career as a certified athletic trainer with both the Cincinnati Reds and Kansas City Royals. He received a Bachelor's degree in Athletic Training from Indiana State University in 2000 and a Master's degree in 2001 from California University of Pennsylvania. The Kansas City, Mo., native is a member of the Professional Baseball Athletic Trainers Society (PBATS) and the National Athletic Trainers Association (NATA).