Unequal Uncap Protective FlexShell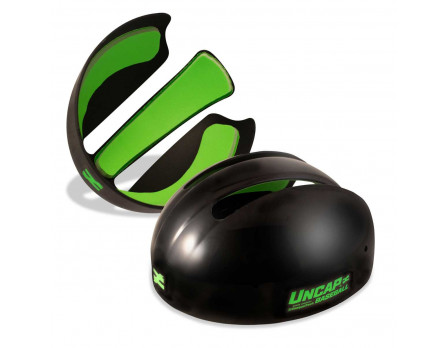 Hover for
larger image
Product Video
Official 2-Minute Review: Unequal Uncap Protective FlexShell
Ty Unthank gives you the inside scoop on the @UnequalTech Uncap FlexShell for Baseball & Softball Umpires. Get 320-degree head protection under your cap - no one will know you are wearing it!
Official Reviews
Martin S.
San Bernardino, CA
January 3, 2023
Great in Theory - Horrible in Use. Fits into hat very snug but when I lean my head over, my cap was so loose it would fall off. There are other options that I found and use. Same concept, smaller pads are a better fit for me.
Kimberley G.
Eight Mile, AL
July 20, 2022
Overall I like it but there needs to be some adjustments on how it fits.
June 17, 2022
I ordered the S/M for my 7-1/4 head. I tried it without a hat, and with two different caps (flex fit and a Velcro back). It is absurdly uncomfortable on the head, and makes the hat sit way too high on my head to work right. I appreciate the effort here, but this is NOT a product I could recommend. For those who wonder, it WILL work with a Velcro back hat (or snap back), but the back of the uncap ends up showing through the adjustment 'loop'.
Questions About This Product
Q:
Hi. My plate hat is a size 7. I wear it very snug so it doesn't come off when removing my mask. My field hat is a 7 and 1/8, which fits me like a normal hat. What size protective shell should I buy that would both fit me snug and not come off my head and still fit inside my hat? Or, what combo size shell and size hat should I use? Thanks.
– Francis Enjem
A:

With a cap size as described, the S/M size Unequal Uncap, recommended for cap sizes 6 5/8 - 7 1/4 is the size you should use. Try on in your home with the two umpire cap sizes to determine which fits best for you.

– Brandon Lawson
Support Specialist, Pro Umpire School Graduate and Umpire, Football Official & Basketball Referee
---
Articles Related To This Product
All-Star Cobalt Line, UMPLIFE, supplemental head protection and COVID-19 Items dominate sports officials' top 10 gear & apparel of 2020.
Trends for all-sports of officiating include COVID-19 Wear & Essentials, Product Storage & Care and Shoes; for umpires, supplemental protection and cup systems.
The NOCSAE standard as it relates to umpire safety is mentioned with advice to follow these 5 steps instead. Hockey style helmets, Skull Caps, Uncaps & the Cryohelmet are all discussed.
*DISCLAIMER: Unequal reduces the risk of head injury as compared to no head protection. Leading medical doctors, PhD's and scientists have concluded that a reduction in acceleration correlates with a reduction in concussion risk. Any player in any activity, game, or sport, can sustain a head injury even with head protection, and that no helmet, pad or Unequal product can prevent concussions or eliminate the risk of these injuries. See full product warning at unequal.com.