Umpire Caps Buying Guide
Sep 24th, 2019
Styles
Umpire caps are available in polyester (Surge, formerly called wool blend but the wool is gone), pro mesh or performance fabric (Pulse) styles from Richardson. The Pulse fabric has the nicest look and are most popular.
The polyester/Surge is the warmest cap so best in colder weather, the pro mesh your choice for warmer weather and the performance/Pulse can be used for both.
Colors
Most umpire caps are available in both black and navy. What you get should depend on what your association or group requires. It is not uncommon for umpires to have both navy and black caps in their bags.
Sizing
There are two sizes in umpiring hats. One is your standard cap size and the other is your bill length. Bill lengths are determined by the number of rings of stitches on the bill. Simply, the more layers of stitches, the longer the bill.
For bases, wear either a 6 or 8-stitch based on your preference. If you can't decide, the 6 is the most popular.
For the plate, go with the longest you can wear while comfortably being able to pull off your mask. For most, that is a 4-stitch cap. Some veterans go 6.
2-stitch caps provide a vintage look and are considered true plate caps as you'd never want to wear that length on the bases. However, they are fading in popularity. If you are a rookie, we highly recommend having a 4-stitch combo cap in your bag that work on both the plate and the bases. It is easier to take off your mask the shorter your bill length, but with practice, rookies should have no problem with a 4-stitch.
The other size is your head size. Umpire caps come in fitted or stretch-to-fit sizes. Fitted caps offer the best look while stretch-to-fit can offer the most comfort and wiggle room if you are unsure of your size. (Note: Some argue that it is easier to pull off your umpire mask while keeping the cap on your head if the cap is not too loose Hence, they have argued against anything but a fitted cap. However, we have found, with practice, that fitted or flex sizes work equally fine in that area.
Still Unsure?
We get very few returns on hats as Richardson typically runs true-to-size. However, if the size hat you order doesn't work for you, take advantage of our free return policy.
Care
Umpire caps can be washed with mild soap and water, in the dishwasher when using a cap washing device called a Ball Cap Buddy or using a specific ball cap wash with applicator.
Store your umpire caps in a cap carrier where they stay crush and dust-free.
About the Author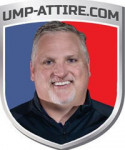 President Jim Kirk
Jim is a leading expert, educator and author on umpire gear, safety & appearance. After playing baseball at Centre College, he worked as a high school umpire. He became involved in E-Commerce while working on an MBA in the early 2000s and bought Ump-Attire.com in 2006, He eventually led it to the leading umpire gear & attire retailer worldwide and a "Best Places to Work in Louisville" honor in 2020 & 2021. He maintains long-standing relationships with Minor League Baseball Umpire Development & Training Academy and the National Association of Sports Officials (NASO). He serves as an adviser to UMPS CARE Charities, the charity of MLB umpires, served as a 2-term board of director from 2012-2018, and was named their 2015 Ambassador Award recipient. A supporter since the inception of the Wounded Warrior Umpire Academy, he was named to their Board of Directors in 2020.