The Best Umpire Base Shoes
Aug 4th, 2022
The easy choice for the best umpire base shoes, in most cases, is the New Balance's V3s. They come in several options and width options and are comfortable, lightweight, and easy to clean.
Let's present each winner with your needs in mind for "BEST UMPIRE BASE SHOES."
Are you looking for information on Umpire Plate Shoes? Find that here.
"I NEED A Mid-Cut BASE SHOE"
Look to the Mizuno Ambition 2s for multi angular ankle support from the inovative additional shoelace eyelets.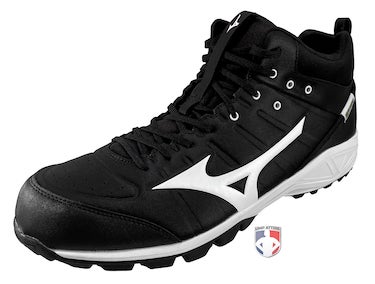 New Balance has options in mid-cuts (the MUM950s). Unfortunately, NB mid-cut base shoes are discontinued, so sizes are limited. These are great, however, for the support that many of you need.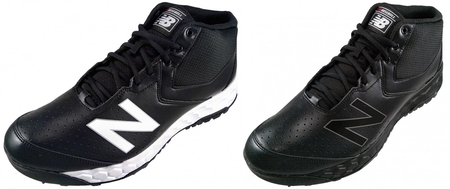 "I need a wider width."
Umpires have wider feet, at least on average than other sports officials. New Balance base shoes have wider (2E) and extra wide (4E) options. The only other brand to offer a 2E is 3n2.
"I want the best all-around base shoe with features made specifically for umpires."
New Balance listened to input from MLB umpires, where they were the Official Supplier, and from us (which includes feedback from all levels). Changes made from information over the last three years include three things near and dear to umpires' hearts: 1) More comfort due to a memory foam midsole and insole, 2) 60% less mesh for easier cleaning, and 3) A change in traction for better a multi-directional response regardless of surface. Read the summary of all the improvements to the New Balance V3 base shoes here.



Below are why you might pick another brand as your best umpire base shoes.
"I want an all-black shoe."
As New Balance's "ALL-black" shoe has silver in the logos, the best "true" all-black umpire base shoe is from Smitty. Smitty's Umpire / Referee Field Shoes have an embossed black "S" and solid features. These include support, comfort, durability, easy cleaning, and multi-directional in an all-black shoe.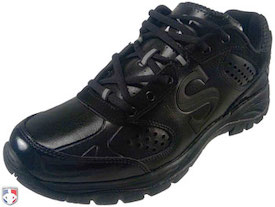 " I want Shoes that are lightweight."
We have several shoes considered lightweight, including Mizuno, New Balance, and Under Armour. In order, our shoe weights (per largest size single shoe) are:
"I WANT SHOES THAT ARE EASY TO CLEAN"
For umpires, this is truly important. All-black shoes are indeed easier to clean than those with white. However, with the proper care (e.g., shoe shampoo), shoes with white are also easy-to-clean. Mesh is what umpires worry most about, especially on dirt. On turf, mesh, white, or cleaning generally is not as much of a consideration. Until all fields you work become turf fields, here are the shoes we consider easiest to clean (in order).
All-Black
Black & White
"I WANT SHOES THAT KEEP MY FEET DRY"
Similar to the above, most water-resistant shoes have synthetic uppers with little to no mesh. The top pick is:
All other shoes we offer do a great job of keeping your feet dry in wet conditions, except the Under Armour Turfs. Their mesh on the front and sides will make them the least likely to do so.
"I HAVE SMALL FEET. MOST BASE SHOES available DON'T FIT ME."
While all shoes have size eight and above, your sizes are more limited if you are size 6-7.5 (men's) or 7.5-9 (women's). 3n2 Reaction Turf Shoes is your best in all-black; Mizuno Ambition 2 Shoes in black & white.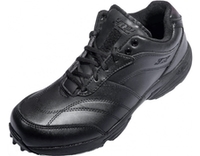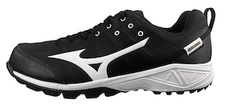 If you are anything less than a six size mens or 7.5 womens, we recommend the 3n2's MOFO Trainer in black/white (available at 3n2sports.com).
"I Don't Like Wearing What Everyone Else Wears."
While the umpire uniform is well "uniform," you can express yourself most with your mask choice and with your base shoes. The best options right now in the "non-uniform" category are the Smitty V2 Black & White Umpire / Referee Shoes, Under Armour Yard Turfs, and Mizuno Ambition 2s. Each offers excellent traction on multiple surfaces (turf, grass, and dirt), is comfortable, and has that black & white color mix most baseball umpires prefer.
Among these, the Smitty v2, with its roomier D width, is more accommodating to wider feet. With its water-resistant and easy-to-clean upper, the Mizuno Ambition is best all-around in conditions from extremely wet to dry and dusty. Both have the more professional styling expected of officials. However, the UA Turfs are so lightweight and comfortable that it is also a great choice. The only downside, and it's slight, can be corrected with all-black shoelaces.
About the Author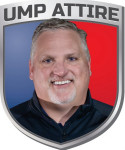 President Jim Kirk
Jim is a leading expert, educator and author on umpire gear, safety & appearance. After playing baseball at Centre College, he worked as a high school umpire. He became involved in E-Commerce while working on an MBA in the early 2000s and bought Ump-Attire.com in 2006, He eventually led it to the leading umpire gear & attire retailer worldwide, a "Best Places to Work in Louisville" honor in 2020 & 2021 and a National Association of Sports Officials (NASO) Preferred Vendor. He maintained a long-standing relationship with Minor League Baseball Umpire Development & Training Academy for 10 years. He serves as an adviser to UMPS CARE Charities, the charity of MLB umpires, served as a 2-term board of director from 2012-2018, and was named their 2015 Ambassador Award recipient. A supporter since the inception of the Wounded Warrior Umpire Academy, he was named to their Board of Directors in 2020.