Ump-Attire.com Now Officially a Family Business
Mar 27th, 2015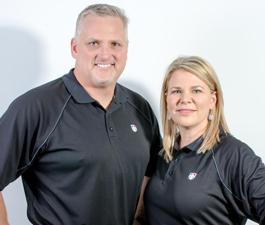 Multiple developments occurred simultaneously that made the hiring of my wife Lori an easy decision. Besides having a part-time opening in the marketing department, I began wondering, "What will happen to the business if something happens to me?" Up until this point, I had no crisis plan for this contingency.
In the meantime, Lori needed a change from teaching elementary school. The little country school she taught at and attended as a child was shutting its doors. It seemed like a good time to make a transition into a role at Ump-Attire.com that she had been interested in since we began.
Lori is a great writer and has such an outgoing, creative personality. She is not only doing well in this marketing role, but is also learning more about the business first hand. As an educator, she understands the value of empowering our customers through valuable information on the website, whether it is in product descriptions, blogs or social media.
I am very happy to have her on board. Her main roles will be serving as the point person on all our marketing and social media efforts including writing product copy and editing all of my mistakes.
Lori joins our 12 year old son, Ben, who always pitches in back in the warehouse in the summer and on holidays when he is not playing baseball for his school or competitive team. He's sent packages out all over the world and his favorite part of working in the warehouse is talking sports and having lunch with our warehouse lead, Brandon Lawson.
As a catcher and pitcher, he has taken a keen interest in umpire protective gear and knows a lot about the equipment we carry. If you ever umpire one of his games, he might try to sell you a chest protector or a mask! All kidding aside, he's a hard worker on the field and in the warehouse.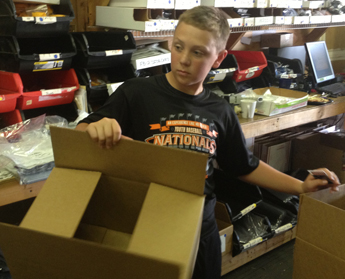 Ben packing up boxes to ship out!
Related Articles
About the Author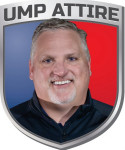 President Jim Kirk
Jim is a leading expert, educator and author on umpire gear, safety & appearance. After playing baseball at Centre College, he worked as a high school umpire. He became involved in E-Commerce while working on an MBA in the early 2000s and bought Ump-Attire.com in 2006, He eventually led it to the leading umpire gear & attire retailer worldwide, a "Best Places to Work in Louisville" honor in 2020 & 2021 and a National Association of Sports Officials (NASO) Preferred Vendor. He maintained a long-standing relationship with Minor League Baseball Umpire Development & Training Academy for 10 years. He serves as an adviser to UMPS CARE Charities, the charity of MLB umpires, served as a 2-term board of director from 2012-2018, and was named their 2015 Ambassador Award recipient. A supporter since the inception of the Wounded Warrior Umpire Academy, he was named to their Board of Directors in 2020.