Tips for Mastering a Seamless Mask Removal!
Jun 18th, 2013
Some of you are masters at taking off your Umpire mask with a longer 6-stitch cap on. We asked our Facebook followers and fellow umpires to share their tips and tricks so the rest of us can be too! Here are their suggestions: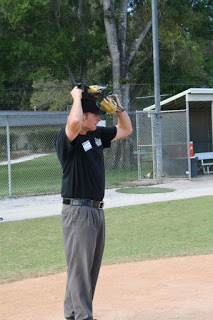 Chris Silvestri - Practice, practice, practice....take it slowly at first, working on your mechanics of taking off your mask until it becomes second nature
Ryan Craven - Loose straps and practice.
Scooter Morrison - Loose strap ... Out and up!
Arik Goldsmit - Agree with the above. If you are still having issues try using the top of the mask as a "hinge" against the top of your hat as you pull the bottom of the mask out and up.
Mark Yoder - Wear the mask very loosely -- to the point that it hangs off your face when you look at your highly polished shoes (if you don't have highly polished shoes, then you may has well pull off your hat with your mask and look like a complete dork rather than just a partial dork). then pull it away from your face and then up. 8-stitch is easy, too...
Manuel Garcia - I've always pulled the mask off from the back, grabbing the straps and sliding them over my hat that way they don't catch the bill.
Tommy Owens - Your mask should be loose anyway so it can move if hit. the rest is just technique development.
Lou Skip DeStefano - Grab middle of mask, pull out, lift up and tilt back. Practice!!!
Chaz Stodola - I wear an 8 stitch during the summer and a 6 during the college season, just make sure your hat is snug but not to the point to where its cutting off the circulation to your brain. Also make sure that your straps aren't extremely tight but not too loose either. When you pull your mask forward it should be adjusted to where your mask just clears your hat. And of course practice practice practice.
Daearl Kelly - Out and up it's natural at practice a little.a lot I've seen use just a thumb I think it's easier to use hand front of mask.
There you have it - whether you start from the front, back or middle - practice seems to be the key!

Related Articles
About the Author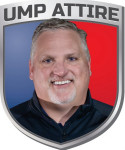 President Jim Kirk
Jim is a leading expert, educator and author on umpire gear, safety & appearance. After playing baseball at Centre College, he worked as a high school umpire. He became involved in E-Commerce while working on an MBA in the early 2000s and bought Ump-Attire.com in 2006, He eventually led it to the leading umpire gear & attire retailer worldwide, a "Best Places to Work in Louisville" honor in 2020 & 2021 and a National Association of Sports Officials (NASO) Preferred Vendor. He maintained a long-standing relationship with Minor League Baseball Umpire Development & Training Academy for 10 years. He serves as an adviser to UMPS CARE Charities, the charity of MLB umpires, served as a 2-term board of director from 2012-2018, and was named their 2015 Ambassador Award recipient. A supporter since the inception of the Wounded Warrior Umpire Academy, he was named to their Board of Directors in 2020.