Q & A on New Balance Umpire Plate Shoes
Jan 13th, 2017
Updated: 1/13/2017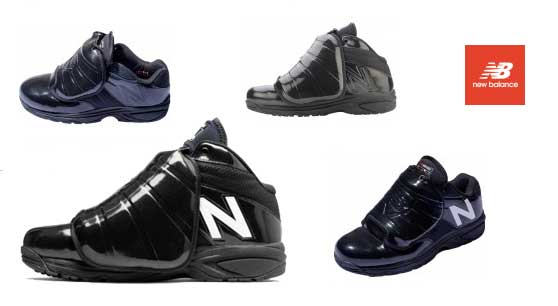 Many of you have asked questions about the 2017 New Balance MLB V3 Umpire Plate Shoes. Here are the FAQs and our answers.
I HEARD NEW BALANCE IS GOING TO HAVE LOW-CUT PLATE SHOES, IS THAT CORRECT?
YES! For the first time, NB has a low-cut umpire plate shoe (one in all-black and one with white).
When NB began discussing designing a new and improved version, we suggested they add a low-cut. Thank you New Balance.
WHAT ARE THE NEW FEATURES OF THE SHOES?
There are 5 main changes.
Low-cut option in addition to mid-cuts

Hi-gloss for a more professional look and easier polishing - while not patent leather, the hi-gloss matches better with patent leather belts.
Redesigned instep guard with multiple features (see below)
Redesigned sole provides increased traction

It has an integrated sock-liner, which will provide more comfort
Of the new instep guard (or metatarsal guard if you prefer), they are:
The guard sits up higher in the front, which provides better angles on shots and better balance when running.
The guard covers more on the inside part of the foot where you need it, while less on the outer side.


The guard releases making it easier to put on and off and adjust



The guard has a mesh neoprene buffer (what we're calling it) that keeps the guard directly off the shoe, thus allowing for more airflow

WHAT IS THE PRICE?
$150 for the mid-cuts and $140 for the low-cuts. There are 2 reasons for the price increase. First, this is an upgraded shoe. The multiple new features and the design costs are part of the equation. Second, New Balance implemented a MAP (Minimum Advertised Price) policy on its umpire shoe lines, which means, they set the price that retailers have to advertise or list the shoes (retailers who don't abide face a 6 month suspension).
Will these shoes hold their shine?
The hi-gloss was designed to polish and buff well. Will it leave a scuff if they get stepped on by a metal cleat? Probably so. Will a 90 MPH fastball leave a mark? Maybe. The same answers hold true whether hi-gloss or matte black. No matter which umpire shoes you wear, there will be some wear and tear, and they will need TLC.
DOES IT HAVE A STEEL TOE?
It does not. No plate shoes in recent memory have had a steel toe. The material is a hard composite just like the previous model.
More specifically, the description from NB is "the highest grade Thermal Polyurethane possible, with greater density in high impact zones."
Are they lighter?
They are roughly the same weight as the previous model.
WILL MLB UMPIRES BE WEARING THIS SHOE?
Yes, beginning in 2017. MLB provided a great deal of input in the new features and design.
IS THE ALL-BLACK REALLy ALL-BLACK?
For all practical purposes, yes. The previous model's all-black had an "N" with a white outline and a white MLB logo on the back. This model has an all-black "N" with an MLB logo on the tongue only. So softball umpires, no need to fret.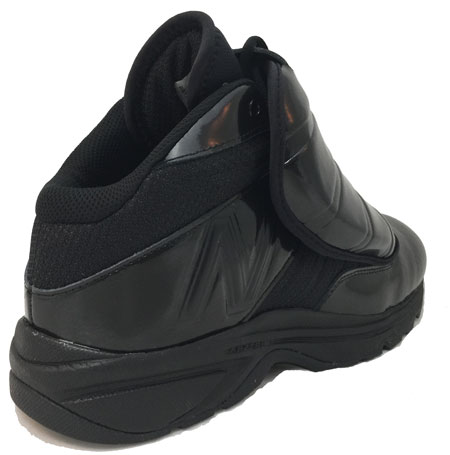 ARE THEY PATENT LEATHER?
No, the shine you see is a hi-gloss leather, not patent leather.
WHAT SIZES WILL BE AVAILABLE?
8-15 D width. 8-15 2E width. 9-15 4E width - same as previous model.
DO THEY RUN TRUE TO SIZE?
Yes. The size footprint has not changed. Wear the size you wore with the previous model.
WHAT IF THEY DON'T FIT?
You can return them, and we'll pay for the shipping. With free shipping and returns, you can try them risk-free.
More Questions?
Related Articles
About the Author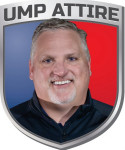 President Jim Kirk
Jim is a leading expert, educator and author on umpire gear, safety & appearance. After playing baseball at Centre College, he worked as a high school umpire. He became involved in E-Commerce while working on an MBA in the early 2000s and bought Ump-Attire.com in 2006, He eventually led it to the leading umpire gear & attire retailer worldwide, a "Best Places to Work in Louisville" honor in 2020 & 2021 and a National Association of Sports Officials (NASO) Preferred Vendor. He maintained a long-standing relationship with Minor League Baseball Umpire Development & Training Academy for 10 years. He serves as an adviser to UMPS CARE Charities, the charity of MLB umpires, served as a 2-term board of director from 2012-2018, and was named their 2015 Ambassador Award recipient. A supporter since the inception of the Wounded Warrior Umpire Academy, he was named to their Board of Directors in 2020.