6 Things to Look for in Umpire Plate Shoes to Decrease Injuries
Mar 5th, 2012
Are you an umpire that suffers from back, knee, joint or foot pain? There could be several causes - weight, lack of exercise, lack of proper stretching before and after the game, stress and more. It may even be due to an unnatural plate stance for you.

Don't let your umpire plate shoes be a sore spot for pain or injuries. What to look for:
Shoes that provide the proper amount of support. If you have a high arch, you'll be more supported in shoes with better arch support and a taller rather than flatter heel.


Shoes that feel comfortable. If they don't feel comfortable right out of the box, consider an exchange for another size or brand. Be aware that with plate umpire shoes there is only a little break-in due to their rigid nature.

And if you've had your shoes for a while and they are considerably worn, invest in a new pair. Your feet and body will thank you for it.


Shoes that fit. If a shoe is too narrow for you consider up-sizing to a wider width. Plate shoes are the most common consideration for moving to a wider width due to their rigidity.


Space in your toe box. Get up on your tip-toes to make sure you have room. If your toes are right next to the tip of the shoe then you need to size up.


Seamless at the back of the heel. Certainly overlooked, shoes with a seam down the middle may promote Achilles heel problems per Mark Stubblefield, medical coordinator for The Umpire School.


Round shoelaces. Flat shoelaces lend themselves to tying your shoes too tightly which can cause additional problems.
If your shoes are comfortable, you have a better chance of being injury-free throughout the season and for seasons to come.

Our umpire plate shoes stack up well in this regard.
On support, they have a moderately high heel and standard arch support. If you feel you need additional arch (or heel) support look for insoles or devices that provide more where you need it.
On comfort, umpires find plate shoes to be more comfortable than other brands and styles before them.
On fit and space, all are true-to-fit or close to it.
All shoes are seamless at the back of the heel and both have slightly rounded shoelaces.
Our advice for is to get up on your toe when checking for toe box space when you try them on. What advice do you have regarding umpire shoes' fit and comfort?
Related Articles
About the Author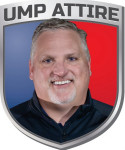 President Jim Kirk
Jim is a leading expert, educator and author on umpire gear, safety & appearance. After playing baseball at Centre College, he worked as a high school umpire. He became involved in E-Commerce while working on an MBA in the early 2000s and bought Ump-Attire.com in 2006, He eventually led it to the leading umpire gear & attire retailer worldwide, a "Best Places to Work in Louisville" honor in 2020 & 2021 and a National Association of Sports Officials (NASO) Preferred Vendor. He maintained a long-standing relationship with Minor League Baseball Umpire Development & Training Academy for 10 years. He serves as an adviser to UMPS CARE Charities, the charity of MLB umpires, served as a 2-term board of director from 2012-2018, and was named their 2015 Ambassador Award recipient. A supporter since the inception of the Wounded Warrior Umpire Academy, he was named to their Board of Directors in 2020.