Shop Elsewhere? Ump-Attire.com's 8 Exclusive Benefits Explained
Aug 4th, 2016
NEVER BE PLAYED
We are the ONLY officiating gear supplier with real-time inventory sync. Say "Goodbye" to the dreaded day-after "Out of Stock" email when you shop with us.

That email does happen with us from time-to-time (about 1% of orders), but it's certainly not an ordinary way of doing business that you will find at other places.

Here's a tip: If you shop an officiating-only store where EVERYTHING appears to be in-stock and nothing is showing out-of-stock, I would not trust it unless you did not need what you want for a longer period of time. How do you know if a website you are ordering from has real-time sync? Add some gargantuan amount of say a 3X umpire shirt color to your cart. If it let's you, it's not syncing inventory from any database. In other words, it might be in stock or might not be. Unless they've noted it somewhere on the page manually, you just don't know.


MASTER YOUR PACKAGE ARRIVAL
The MOST expedited shipping options at checkout including Next Day and Saturday Delivery options.

Some companies don't trust that they will get your order out if you order Next Day Air online. They certainly don't want to get your call the next day when your order does not arrive. So they ask you to call to make sure.


STOP GUESSING
KNOW when your order will arrive at checkout with "Expected Delivery" dates and same business-day shipping before 2:30pm ET.

We do build in some slack with the word "expected". We could easily say "Yes, this should get there by that day. It is 'expected"". Technically, only expedited UPS options are considered guaranteed options and even then things can happen (e.g. blizzard).

Basically, we want the website to provide you with the same answer as what you would receive if you asked us: "Oh, you are in Florida and want to order UPS Ground. UPS Ground is expected in 2 days from Louisville if you order by 2:30 ET. Ground is not guaranteeed but expected". In other words, our website mimics what we would tell you by phone.


SAFEGUARD YOUR INFORMATION
Your credit card is NEVER stored for the most secure shopping experience. Before you shop elsewhere, ask how your vital information is stored. We triple-dog dare you!

One benefit of shopping with us is that you can "save" your credit card information to be associated with an account for futue ordering. But we do not save this information on any of our servers. Instead, our credit card processors give us an encrypted token that allows the website to grab that information from your bank the next time you place an order. This is the standard way of being what the industry calls PCI compliant (PCI = Payment Card Industry).

Essentially, if you asked me or my web developers to find your credit card information on our website, we couldn't. It's not there. And if it's not there, no one else has access to it.

Note that we often take orders by phone. And you may be wondering "Don't we take your credit card number then?" Yes and no. When you place an order with us by phone, we actually use the website to place it. So when you dictate the order, we just type your credit card information into the checkout fields just as you would after we add everything to the cart.

No matter who you do business with online, make sure they are PCI Compliant. If they are not, you should not order from them. We state this at checkout.


HAVE IT ALL AT YOUR FINGERTIPS
With the EASIEST navigation on any device, find what you're looking for with the fewest clicks and least frustrations.

It's not a treasure hunt.


ALLOW YOURSELF TO TRY NEW THINGS
The MOST brands and choices in-stock ready-to-ship.

Some companies stick to primarily just one brand. On the flip-side, there are a few companies I'm thinking of that has more brands and products listed but do not actually keep inventory or much inventory. It is common knowledge that they take your order, then either attempt to drop-ship it or order it from the manufacturer to have it sent to you when they receive it. If that's your thing.

We have the most brands and choices of in-stock items. But I said that already.


BE ALL-KNOWING
MORE product information including 1,500+ product reviews so you know just what you're getting before it arrives.


RECEIVE THE ROYAL TREATMENT
60-Day NO-HASSLE returns policy just like you deserve.
Related Articles
About the Author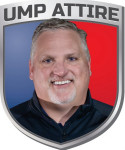 President Jim Kirk
Jim is a leading expert, educator and author on umpire gear, safety & appearance. After playing baseball at Centre College, he worked as a high school umpire. He became involved in E-Commerce while working on an MBA in the early 2000s and bought Ump-Attire.com in 2006, He eventually led it to the leading umpire gear & attire retailer worldwide, a "Best Places to Work in Louisville" honor in 2020 & 2021 and a National Association of Sports Officials (NASO) Preferred Vendor. He maintained a long-standing relationship with Minor League Baseball Umpire Development & Training Academy for 10 years. He serves as an adviser to UMPS CARE Charities, the charity of MLB umpires, served as a 2-term board of director from 2012-2018, and was named their 2015 Ambassador Award recipient. A supporter since the inception of the Wounded Warrior Umpire Academy, he was named to their Board of Directors in 2020.