Breaking Down What Masks MLB Umpires Wear
Nov 20th, 2012
Let's face it - umpire's need good face protection and who better to take pointers from than the MLB umpires! Kenneth Fitts, a NCAA umpire, shared a list on
Umpire-Empire.com
of what all of the MLB Umpires are using. Two out of three umpires choose Wilson - preferring either the
Wilson Dyna Lite
or the
Wilson Titanium
frames.
Also popular are the Nike Titanium and the Mizuno masks - but you won't be able to run out and buy these! Nike masks must be gifted by MLB catchers endorsed by Nike. The Mizuno masks are only available for sale in Asia for a steep price.
And when it comes to helmets a count of 5 and 4 choose the
All Star MVP4000
and the Wilson A5590 so says Fits (Fittske24 on Umpire-Empire).
Which mask are you wearing? And why did you choose it?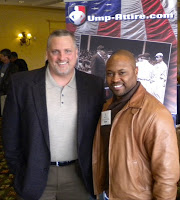 Jim and Kenneth at 2011 NCAA Umpire Clinic in Nashville
Related Articles
About the Author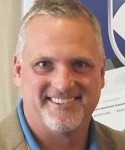 President Jim Kirk
Jim has a heart for sports officials and is one of world's top experts on umpire gear, apparel and safety. After playing baseball at Centre College, he worked as a high school umpire during the Elbeco shirt years. He became involved in E-Commerce while working on an MBA in the early 2000s and bought Ump-Attire.com in 2006. Jim is proud of Ump-Attire.com's success, staff and support for multiple groups including Minor League Baseball Umpires, Minor League Baseball Umpire Training Academy, the Wounded Warriors Umpire Academy and UMPS CARE, the charity of MLB umpires. He served on the UMPS CARE board of directors and was named their 2015 Ambassador Award recipient.