KoolBlues Umpire Chest Protector Cooling System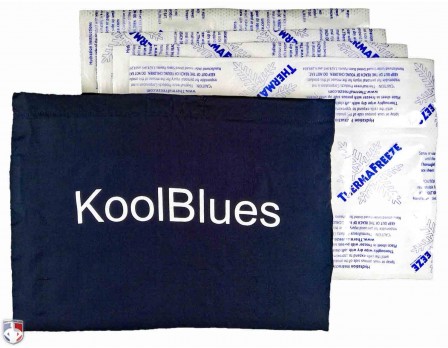 Hover for
larger image
Product Video
Crew How-To: Install the KoolBlues Umpire Chest Protector Cooling System
Ty takes you behind the plate and shows you how KoolBlues keeps you comfortable all game long.
Additional Videos
Official Reviews
July 22, 2022
I've now used my KoolBlues in temps up to 112 degrees here in Arizona, and yes, it definitely helps, albeit for a limited time as expected. For me, in those temps, the cold feeling lasted roughly about hour total, which was maybe 2-3 innings into the game (it's already on for at least 20 minutes of pregame). The one thing I did notice was that if the smooth sides (versus the rough side) of the ice packs face you inside the pouch, the "cold/cool" feeling lasted a bit longer. Not much you can do about these packs in crazy temps like we get here in the desert, but every little bit helps.
July 21, 2022
It works. Not a silver bullet, but I would 100% rather have it than not. No doubt. I don't like the heat once it gets over 90 degrees. Been using it ever since I didn't prepare and found out the hard way what some of the symptoms of heat exhaustion/ heat stress are when working the plate in 94 degree temps and above. It helps drop your body temp, and shortens the time exposed to the heat. Won't last a full game, probably will last until the mid 3rd or 4th inning. You can fit multiple sheets in the pouch to help lengthen the time and feel it even more than when you just use 1 sheet. Solid heat management tool and I strongly recommend it. It's not like putting a neck gator on and having it warm in 5-10 minutes. This product will help you work in extreme heat.
June 10, 2022
Another great cryo-option to have as umpires to help us beat the heat. This item may appear bulky in the photos, but in reality it is very thin and you will not notice any difference when wearing it under your CP. But you will notice the coolness and comfort that it will bring you on those hot days. Even if it doesn't last an entire game, you will be very glad you have it while it lasts. You can always buy more cold packs online and change them out between games if you wanted. I think you could also wear this in the field if you really wanted too. It's very thin and not bulky at all.
Questions About This Product
Q:
I have already purchased this product and absolutely love it but my one concern is the material that's inside to help it freeze is coming out a little bit more every time I use it. Can you tell me how to keep that from happening?
– Michael Almony
A:

I assume a small rupture has occurred in one of the Therma-Freeze pockets. Not much can be done to repair this pocket since the water is trapped inside. Reducing the amount of water initially filled within the Therma-Freeze will reduce the tension at the seams and reduce the chance of a rupture.

– Ty Unthank
Marketing Specialist, HS & College Umpire
---
Articles Related To This Product
These products made the cut and were chosen by staff to go into the 8 CWS umpire gift boxes in Omaha.
We highlight officiating gear & apparel and the innovator umpires and referees behind them.
We identify these 36 umpire gear & apparel products in 6 summer trends for baseball & softball.