Take it from the Umpires - Top 10 Tips to Stay Cool in Summer Games
Jun 30th, 2016
We asked umpires, how do you stay cool in summer games? Over 52 replies resulted in this Top 10 Summary of 5 Core Tips and 5 Extras.
When you can't turn games down, do all early morning games, always do the bases or move to Seattle (thanks for those suggestions, too) and while there are specific preferences you'll find below, it boils down to to what you put in your mouth and what you put on your body. Find someting here to help better your (summer) game.
Hydrate with Water AND Electrolytes

Collin Strother
"Here in southeast we advocate to alternate drinking water and Gatorade/Powerade that way you get the necessary electrolytes but don't tank up on unnecessary sugars."

Joseph Roberts
"Pedialyte water mixture"

Kyle Rhodes
"Pedialyte 12 hours before game time then water...drink at room temp...water will enter your system faster and be more responsive

Arturo Varela Jr.
"Hydrate, and drink some pedialyte!"

Dave Loosli
"North TX.......4-6 games, 3L water, 5 quarts Gatorade"

Scott Amox
"Water and sports drink half and half to drink between innings."



Cesar Ceregatti




"...if you drink about 60 ounces of Cytomax drink mix the day before a hot one, that will go a long way to keep you properly hydrated...works for me when I work marathon back to back to back games in the hottest of days."




Use Good Nutrition Habits

Joe Lopez
"It's how you prepare the day before. Ignore the concession stands. Eat healthy carbs and fruits."

Scott Amox
"Eat apples and bananas at least 2 hours before and after."


Wear Lighter Color Umpire Shirts

Julio Cesar Teodoro
"Wear cream or columbia."

Ryan Hatton
"I would start by wearing baby blue."

Bobby Renteria
"Don't wear black."

For the record, lighter color umpire shirts in order of popularity: Powder Blue, Cream, Polo Blue (Black Collar), White


Use a Cooling Towel (Buy or DIY) or Similar

William Beene and Collin Strother
"Florida water!"
From Wikipedia: "Many baseball teams (particularly it seems in the South) use Florida Water as a refresher during the hot summer baseball months by filling a small lunch sized ice chest with water and ice and a few caps of Florida Water. They then soak rags in the tonic and wipe their pulse points and necks with the soaked rags, providing a very cooling effect to the skin and body."

Dean Benenhaley
"

Here in South Carolina, I've always gone to the local grocery or drug store and get a small bottle of spirits of ammonia and get a little small cooler with ice, along with a wash cloth. Pour a little of the ammonia in the small cooler and put the wash cloth in the co

oler also. Every other inning, depending how hot, remove the wash cloth and apply to the pulse points of your body. Press the wash cloth on temples, and on both wrists. It brings the body temperature down."



Tom Madsen
"I use a GoCool towel around my neck under my chest protector."

Peter Bowe
"I carry a small cooler full of frozen bottles of water. They melt slowly and can act as immediate cold packs in between innings. Also those blue cool towels really do work. I keep it in the cooler on the ice."

Steve Columbus
"For those that wanna keep cool, get yourself two (ACE Brand Cooling Cloths)...p

ut them in cold water in a cooler surrounded by ice. They don't look like much but when they get wet the middle of them expands with a gel like substance inside. When I am on turf or it's really hot, I switch them every two innings. On the dish, you wrap them around your neck and tie them off in the front and they make a huge difference. Best thing I've found thus far. And you can't really notice them!"



Joe Lopez
(With a cooling product) Cool down the insides of your elbows and knees are two other common pressure points, as well as the tops of your feet and insides of your ankle (near the area where your ankle bone sticks out). There's also a pulse point on your inner thighs. And, while the forehead is commonly used as a cooling spot, the pulse point on your head is actually closer to your temple and the area just in front of your ear.

Brad Thede
"The new cooling towel (Radians Arctic). Better than the FrogTogg quality wise and a better price."

Michael Quinn
"Endurance towels from Lowe's, keeps your body temp down."

Dave Loosli


"FroggTogg with ice cold Instantchill...a small, yet cold aluminum spray bottle to spray arms and head between innings."




Heat Awareness

Anthony Buchanico
"Know your capabilities. Do not underestimate heat!"


5 Extra Cooling Tips to consider
Put Gel Insoles in Freezer

Scott Amox
"Place gel insoles in the freezer the night before and put them in just before taking the field on turf."


Always Wear an Under Shirt

Scott Amox
"Wear an under shirt to help keep moisture close to the skin."


Cool-Catcher Cooling Product

Ray Peacock
"(For umpire helmet wearers) A system called cool-catcher."


Wet Your Hat

Tom Madsen
"Wet my hat in between innings and use a hockey mask… hat stays cooler longer and sun doesn't dry it out so fast."



Cesar Ceregatti




I umpire in Bakersfield, California,

where temperatures can reach over 110 degrees. Normally I keep a large 5 gallon jug full of ice water near one of the dugouts and every half inning I completely soak my cap in the ice water and fill the interior before put

ting it back on. Very much worth the effort and a total lifesaver.


Chew Gum for Dry Mouth

Jeff Campognone


"I learned a long time ago to always chew gum on hot days to combat getting a dry mouth."
Thanks to all of you who gave their tips for staying cool. Comment with your tip.
Other Related Products
Related Articles
About the Author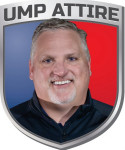 President Jim Kirk
Jim is a leading expert, educator and author on umpire gear, safety & appearance. After playing baseball at Centre College, he worked as a high school umpire. He became involved in E-Commerce while working on an MBA in the early 2000s and bought Ump-Attire.com in 2006, He eventually led it to the leading umpire gear & attire retailer worldwide, a "Best Places to Work in Louisville" honor in 2020 & 2021 and a National Association of Sports Officials (NASO) Preferred Vendor. He maintained a long-standing relationship with Minor League Baseball Umpire Development & Training Academy for 10 years. He serves as an adviser to UMPS CARE Charities, the charity of MLB umpires, served as a 2-term board of director from 2012-2018, and was named their 2015 Ambassador Award recipient. A supporter since the inception of the Wounded Warrior Umpire Academy, he was named to their Board of Directors in 2020.