Force3 Defender Umpire Mask with Tan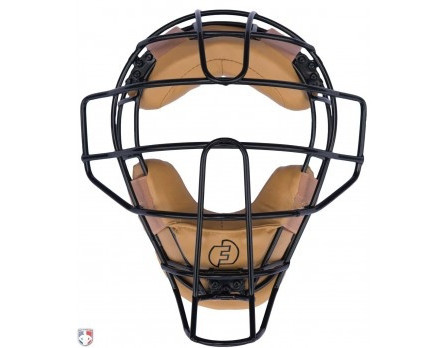 Hover for
larger image
Product Video
Official Review: Force3 Defender Umpire Mask
See our review on the latest generation of Defender Umpire mask and the improvements Force3 has made.
Additional Videos
Official Reviews
May 5, 2023
After 100 high school games, this innovative design really works to cushion impact. The cage is thin and provides a really good window of vision. It's a good mask but I think it's a generation from being a great, industry-standard mask. Would like to see a lighter version utilizing a lighter material. The pads need improvement, while comfortable, they are not durable, and the nylon wrap degrades very easily. The forehead pad needs to be augmented to aid in protection for cap-wearing umpires. Would also like to see better hardware at the spring/cage interface that prevents the cage from sliding/shifting within the bracket. All said, 4 stars with room to grow. This is a protective mask that can get even better.
March 28, 2023
I have been using a hockey style helmet, but never liked the weight. I switched back to a mask and coupled it with the skull cap. I love my mask! I am yet to take one in the kisser, so I'll let you know how the impact absorbers perform at a later date.
August 18, 2020
Haven't taken a shot yet with my V2 umpire mask (tan/black), but it's replacing my original V1, which has taken so many "hardly felt it" shots, the powder coating has rubbed off a lot of the bars and rust spots all over. Absolutely love the V2, and it's dramatically better than the V1. Noticeably lighter, and the harness has a lot more flex so the mask can be worn much looser than the original, while still maintaining that snug fit for protection designed into the shock absorption system. Very comfortable (much more comfortable than the V1). I also like the strip of leather on the chin strap. I swear I got a better view with this new mask than with the original, and I have no idea why. Side by side, they seem to have the same dimensions, but I swear I can see better out of the V2 than the V1. Two major big thumbs up from me. I would not and will not wear any other umpire mask.
Questions About This Product
Q:
Which is better to use for 10u (first-year pitching in softball) Force3 or the Wilson Titanium mask? The kids pitch from 35ft & they use a core .47 11 inch ball by Diamond that is certified by Dixie Softball, Inc.
– Travis Loftis
A:

Both masks will provide excellent protection at this level. The Wilson Titanium will be lighter in weight.

– Ty Unthank
Marketing Specialist, HS & College Umpire
---
Articles Related To This Product
"Without that mask, my career probably would have been over four or five years ago easily," said longtime MLB umpire Tim Timmons, 53. "There's absolutely no way I'd be working right now."
As part of the BBF webinar series, Jim joins the staff to discuss umpire gear, apparel and safety.
College Umpire Ty Unthank takes you inside the mask & gives you a step by step process for adjusting and trimming your umpire mask harness to look your best on the field.