An Equipment Supplier's View of the NCAA Umpire Clinics in Baltimore, Chicago and Nashville
Feb 5th, 2016


(View of the main room at the Westin Chicago)
We have not done a great job the past few years attending the 4 umpire clinics around the country. We've been trying to find the right formula for juggling the clinics, our MiLB Umpire Training Academy sponsorship in Vero Beach, our UMPS CARE sponsorship in Phoenix and the daily operations in Louisville.
For 2016, we made some tweaks to who goes where and how we approach the clinics. Those tweaks seemed to have worked! Myra Breit, our customer service lead, spent more time in Vero (I spent less). She also was able to remote into the office in her downtime to review orders.
I tackled 3 of the 4 clinics myself rather than dedicating 2 staffers and did so with no more than 2 large bags full of samples of mostly new and exclusive items, our new marketing banners and Jolly Ranchers - always a favorite of attendees.
Nashville
Nashville was easy. Only a 2.5 hour drive, I got up early and arrived just before the 7am registration to setup then returned afterwards - saving a night away from home. The proximity served as an extra bonus in seeing many of our Louisville-area friends.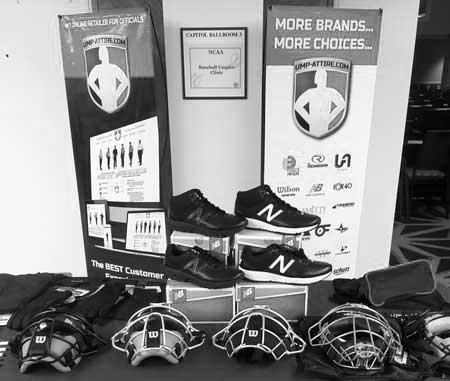 (Out typical setup - This was from Nashville's Clinic)
Chicago
Chicago was great! It was nice connecting with lots of umpires I had not seen in a while, outside of Facebook at least - including some of those from the Southeast Michigan Umpire Camp and Mid-American Umpire Clinic that I attended several years ago.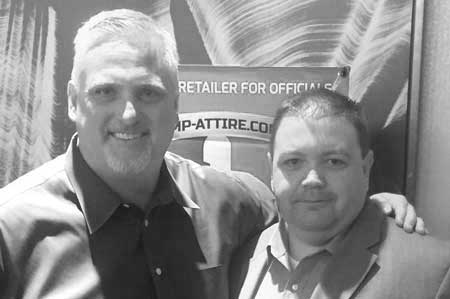 (Jason Blackburn of the Mid-American Umpire Clinic)
Baltimore
Baltimore was even better. Not only did I see a fair share of Minor League Umpires (who often umpire college ball before Spring Training) and former Umpire School students, I also connected with many online customers I had not previously met.
An early dinner with Warren Workman of Umpire-Empire.com, who is a few hours away in Virginia Beach, then a later dinner with some Minor League guys capped off the day nicely.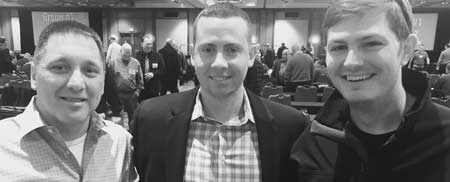 (Todd Zimmerman, Tom Honec and Jake Steinberg: student, instructor, student from The Umpire School)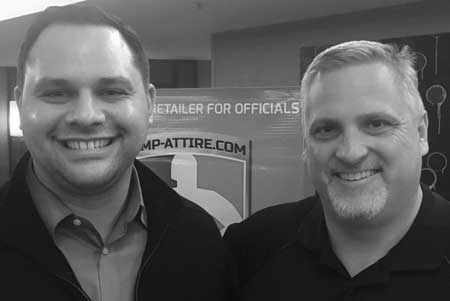 (With Umpire and Super-Good-Guy Matt Acevio)
Palo Alto
I apologize to those out West. I hoped to make it to Palo Alto, but it just didn't fit into the travel mix. I will try my best next year.
Hear are a few insights from all the clinics that you might find interesting:
About Products
There is a misperception that all grey or silver color frames are made of titanium. This is not the case. You can paint any metal frame any color. Years ago, Wilson once gave the titanium mask a black powder coat. These days, if it is a lighter color, it could be aluminum, steel or titanium. Color does not equal frame type. I repeat. Color does not equal frame type.

(NCAA Umpires at the Chicago Clinic look at the Wilson Aluminum Umpire Mask)
Umpire gear offerings continue to get better: All umpires, except 1, felt the 2nd version of the New Balance Umpire Base Shoes, were an upgrade over version 1. All umpires, except 1 (not the same 1), felt the Smitty convertible umpire jacket was better than Majestic's discontinued version.
Some who picked up a Force3 Umpire Mask felt it was "too heavy". Have we spoiled umpires with the recent trend toward lighter weight umpire masks? Where we are today on the umpire masks' weights is this: the lightest Wilson mask 10 years ago, the Wilson Dyna-Lite Steel Frame Mask (#A3017), is right in the middle weight-wise between current lightweight masks and the Force3 masks. Sales numbers of the Force3, as well as other umpire masks, do indicate that there is a place in the market for a range of varying weights and protection levels.
About Other Things
There were less vendors, competitors if you will, than I have seen in the past. I have to give it to Honig's. They always show up. Purchase Officials Supplies was in Nasvhille and Chicago. It's always good to compare notes with owner Pat Madine on Smitty products, something we have in common. Officially Sports (PA) came to Nashville and All Sports Officials (PA) came to Baltimore. I try to get along with everyone. It's a small market, it often takes a village to service everyone and you never know when you are going to need someone else's help.

The umpire community is tight-knit and feels smaller to me than ever before. Do you feel this way as well? They say there are 6 degrees of separation between all people. I would guess that's on average 2-3 for umpires. This makes this demographic that much more interesting - and it also keeps us on our toes.
Thanks to all of of the NCAA umpires who stopped by to see us. It was a very enjoyable time for me personally to spend time with all of you. See you next year!
Related Articles
About the Author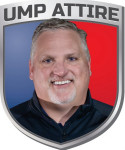 President Jim Kirk
Jim is a leading expert, educator and author on umpire gear, safety & appearance. After playing baseball at Centre College, he worked as a high school umpire. He became involved in E-Commerce while working on an MBA in the early 2000s and bought Ump-Attire.com in 2006, He eventually led it to the leading umpire gear & attire retailer worldwide, a "Best Places to Work in Louisville" honor in 2020 & 2021 and a National Association of Sports Officials (NASO) Preferred Vendor. He maintained a long-standing relationship with Minor League Baseball Umpire Development & Training Academy for 10 years. He serves as an adviser to UMPS CARE Charities, the charity of MLB umpires, served as a 2-term board of director from 2012-2018, and was named their 2015 Ambassador Award recipient. A supporter since the inception of the Wounded Warrior Umpire Academy, he was named to their Board of Directors in 2020.