We Discover in Nashville the Top 5 Items NCAA Umpires Want
Jan 18th, 2016
NCAA umpires attend 1 of 4 umpire clinics each year throughout the country.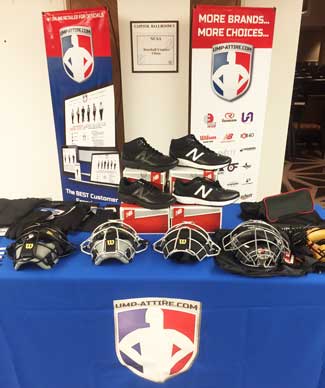 This year's southeastern US clinic was held in Nashville. It included umpires from several conferences including the ACC, SEC, Sun Belt and more.
We scored a great location at the Sheraton Downtown Nashville just outside the doors to the main meeting area. With too many umpire products to attempt to bring and/or sell, we brought and showed off new and exclusive products - as well as our new fresh-off-the-press banners.
We thought you'd be interested in knowing which new and/or exclusive products NCAA umpires were interested in. Here are the top 5:
New Balance MU950 v2 Umpire Base Shoes
We think these are going to be a runaway hit this year based on the feedback we are receiving. Available only here in all styles and all widths (standard D width, wide 2E and extra wide 4E). The highest interest of the 4 styles was in the low-cut base shoes with white.
Smitty Black Convertible Umpire Jackets
The word is that umpires like these better than Majestic's discontinued verison due to an improved fabric feel and shorter arms that translate to a less-bunched, more fit look in the lower arms.
Wilson Black/Grey Pads Umpire Masks with Black Frame
These exclusives really caught the attention of many with a near auction-type atmosphere for someone to take home each sample we brought.
Wilson Silver Aluminum Umpire Mask with Memory Foam Pads
Another exclusive and new last year.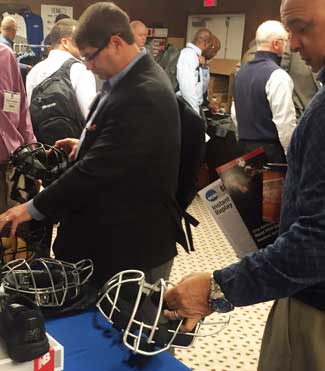 Was also great to see Dan Welke (Div II Coordinator) and Major Greg Wilson (r) of the Wounded Warrior Umpire Association (photo below) as well as Chris Elliott (bottommost photo).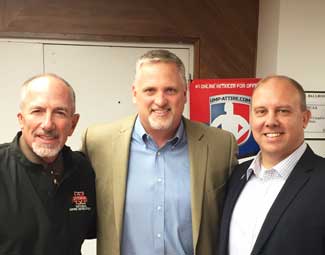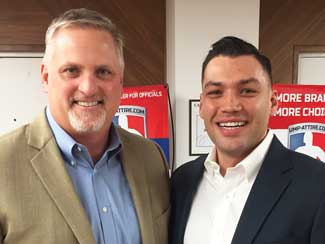 It was also great to see AJ Costaglio (great conversation on differences of metals in umpire masks), Tony Maners (wish we had more time to catch up), Brandon Cooper (former rep and blog writer for us who is rocking it in Zija and in umpiring), Jim Jackson (who I did not recognize out of his umpire uniform), Brad Polk, Hoss Matherson (thank you so much for your extra kind words), Ralph Diaz (enjoy those gloves), Roger Fulks (who is the smoothest plate umpire around), Keith Shartzer, Cedric Coleman, Kenneth Fitts (thanks always for your insights on umpire clothing and gear), Morgan Day (nice meeting and talking with you for the first time), Terrence Mobley (who was also there with Calling for Christ), Billy Williams (my favorite all-time customer) and others I can't think of at the moment. Thanks to all of you who stopped by, Sheraton staff (who were great) and the NCAA for allowing us to attend.
Next stop: Chicago!
Related Articles
About the Author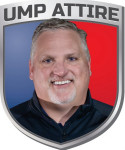 President Jim Kirk
Jim is a leading expert, educator and author on umpire gear, safety & appearance. After playing baseball at Centre College, he worked as a high school umpire. He became involved in E-Commerce while working on an MBA in the early 2000s and bought Ump-Attire.com in 2006, He eventually led it to the leading umpire gear & attire retailer worldwide, a "Best Places to Work in Louisville" honor in 2020 & 2021 and a National Association of Sports Officials (NASO) Preferred Vendor. He maintained a long-standing relationship with Minor League Baseball Umpire Development & Training Academy for 10 years. He serves as an adviser to UMPS CARE Charities, the charity of MLB umpires, served as a 2-term board of director from 2012-2018, and was named their 2015 Ambassador Award recipient. A supporter since the inception of the Wounded Warrior Umpire Academy, he was named to their Board of Directors in 2020.