2nd Annual Top 5 What NCAA Umpires Most Want
Feb 12th, 2017
We were excited this year to participate in ALL 4 NCAA Umpire Clinics! This year's clinics were held in Anaheim, Chicago, Atlanta and Baltimore.
2016 was our first year to do a list of TOP 5 WHAT NCAA UMPIRES MOST WANT. It was well-received, so this is the 2017 list of TOP 5 new umpire gear items NCAA Umpires want:
Our only 2 regrets on these pants is that we didn't have them before the Baltimore Clinic to show, and we couldn't keep quantities in stock of most sizes after we sold out of most pairs of plate and base pants during that same weekend. They are indeed the hot item of the season for more than just NCAA umpires.
The lightweight 4-way stretch material gives these pants what umpires have been craving. They move and stretch with you and won't get hung up in your shin guards when you're working behind the plate. The moisture wicking material also keeps you cool and dry, unlike traditional poly wool pants. These pants are THE upgrade in our industry. Order a pair and see why our MLB Umpire friends and Administrators are giving these pants a "thumbs up." No worries for you, we have more arriving this week, we hope by 2/16.
While the vertical stripe is the current most worn shirt at all NCAA levels D1-D3, many drooled over the Majestic MLB Shirts, especially their mesh gussets and tail that promotes airflow along with their sharp look and well-made construction. Many stated a desire to move to this style shirt in the future and/or wear for non-college games.
While most preferred Majestic over Smitty's short sleeve option, many also liked Smitty's long sleeve Major League replica shirt for colder weather behind-the-plate. Regardless of brand, most gravitated first at our table to viewing the MLB/replica shirts.
What was it about the new shoes that NCAA umpires liked the most? 1) They felt lighter than their current NB shoes (they're not; it just feels that way with better balance). 2) Better traction. 3) Moving the metatarsal guard up. 4) The interior sock liner that they were not aware of until we had them put their hands down into the shoe. The only debate over the new shoes was whether to stick to mid-cuts or move to the first-ever NB low-cut plate shoes.
We brought the full line of Force3 bags to show off. And while they like them all, the one NCAA umpires were most interested in or most liked if they already had was the XL Plate Shoe Bag that fits all sizes of New Balance plate and umpire shoes, up to a 4E width and size 15. Keep your shoes protected in this secure zipper bag by Force3.
While not entirely new, we did not have them in time for last year's NCAA clinics. Those that had already purchased shared with others "you have to get one of these", "I love mine" or some other term of endearment. Those that didn't have one, wanted one - often on-the-spot (although we do not take items to sell).
The 2016 Top 5 | View All New Items
Big thanks to everyone who stopped by to say hello. We hope have a great 2017 season!
Related Articles
About the Author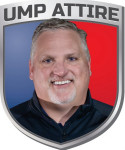 President Jim Kirk
Jim is a leading expert, educator and author on umpire gear, safety & appearance. After playing baseball at Centre College, he worked as a high school umpire. He became involved in E-Commerce while working on an MBA in the early 2000s and bought Ump-Attire.com in 2006, He eventually led it to the leading umpire gear & attire retailer worldwide, a "Best Places to Work in Louisville" honor in 2020 & 2021 and a National Association of Sports Officials (NASO) Preferred Vendor. He maintained a long-standing relationship with Minor League Baseball Umpire Development & Training Academy for 10 years. He serves as an adviser to UMPS CARE Charities, the charity of MLB umpires, served as a 2-term board of director from 2012-2018, and was named their 2015 Ambassador Award recipient. A supporter since the inception of the Wounded Warrior Umpire Academy, he was named to their Board of Directors in 2020.