The Discontinued Report: What's Changing in Umpire Gear & What's Replacing
Jun 5th, 2020
Time to pick up this yearly report of what umpire-specific gear is going and what is coming.
We are constantly talking to our suppliers. Most of the major producers do not proceed with new umpire-specific items without getting input from us first. Even then, all product developers are one text or email away from a quick update. A fair warning: trust no one else until you hear it from us first (on the brands we carry).
Obviously, times are uncertain. The NCAA and high school seasons were cancelled. And as I write this, I highly doubt that MLB or MiLB will have ones either.
As a result, many sporting goods manufacturers have been heavily impacted by sports closing during COVID-19. Therefore, it's not surprising that most are sitting on much of their 2019 inventory. For those reasons, the majority of companies who had plans for the fall or the following year will most likely be putting them off another season or year. There are some exceptions.
3n2

No changes, but you may have missed the low cut patent leather plate shoe, previously discontinued, is back in a D width.
All-Star
The System 7 chest protectors and shin guards in both double and single knees are being discontinued. We have purchased the remaining stock that you can have at a cloesout price.
All-Star is working on a new line of umpire gear. I will update you on when and what that is as soon as I am allowed.
Majestic
I can only speculate that this is way too early for umpire shirts at the MLB level to be discussed for 2021.
2020 was to have still had either Majestic shirts or Majestic-style side panel shirts even with Nike having the new apparel contract. This was being discussed right up to Spring Training. This is typical at the end and beginning of contracts. No one seems to know what is going on (including those in charge...no offense to anyone, it is just the nature of it).
Majestic is no longer manufacturing shirts for retail. We had plentiful stock for 2019 on most styles and sizes. Given the above scenarios, we expect much of our remaing stock to be available through at least the first half of the 2020 college and high school season.
New Balance
Even though New Balance picked up a 1-year offical supplier status of MLB umpires for 2020, I expect will carry over to the 2021 season.
Due to the late decision, shoes being made during contract negotiations were changed to the non-MLB logo. To simplify going forward, NB is no longer placing the MLB logo on newly made plate or base shoes.
That plus what has happened with COVID-19 has led to odd stock out and promotional situations. First, New Balance temporarily suspended its MAP requirement for retailers like us. One situation is you'll have a MLB logo shoe (technically the newly discontinued one) in better stock and marked down over the same exact shoe than the non-MLB logo one. We and other retailers may have a MLB shoe you want out of stock in one size but in stock in that size in non-MLB logo.
We appreciate your patience. Our advice: if you need a pair of NB shoes, now is the time to get them - at a lower than MAP price is a bonus.
Richardson
Pro Mesh caps have been discontinued. The newer fabrics that are breathable and wick moisture have proven much more popular over the last few years as pro mesh cap sales have waned. Richardson has no more stock If you are fan of the pro mesh, now is your last chance.
Smitty
Umplife
Wilson
Wilson is discontinuing its Charcoal chest protector. We are attempting to purchase their last remaining stock. Once they are gone that will be it.
Due to the 2019 sports shutdown, plans for a new line of gear are put off until further notice. We'll let you know if this changes.
About the Author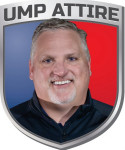 President Jim Kirk
Jim is a leading expert, educator and author on umpire gear, safety & appearance. After playing baseball at Centre College, he worked as a high school umpire. He became involved in E-Commerce while working on an MBA in the early 2000s and bought Ump-Attire.com in 2006, He eventually led it to the leading umpire gear & attire retailer worldwide, a "Best Places to Work in Louisville" honor in 2020 & 2021 and a National Association of Sports Officials (NASO) Preferred Vendor. He maintained a long-standing relationship with Minor League Baseball Umpire Development & Training Academy for 10 years. He serves as an adviser to UMPS CARE Charities, the charity of MLB umpires, served as a 2-term board of director from 2012-2018, and was named their 2015 Ambassador Award recipient. A supporter since the inception of the Wounded Warrior Umpire Academy, he was named to their Board of Directors in 2020.