Inventors of HeatShields Serve All Walks of Life Through Cooler Feet
Jul 21st, 2020
The Origin Story
Husband and wife team Rusty and Leanne Gregg have been serving others as a way of life. Rusty is a retired Air Force F-16 fighter pilot. Leanne is a physical therapist.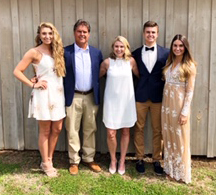 They put together their collective knowledge and experience to find ways to keep their daughters and son's body temperatures down while playing competitive sports.

THE PROBLEM OF TURF HEAT & HOT FEET
If you've ever officiated, coached or played on turf, you know how hot it can really get out there. Temperatures on turf and other playing surfaces have measured up to 200 degrees Fahrenheit (93 C)! It doesn't help that rubber soles, synthetic, shoes, leather shoes and many gel inserts are all conductors of heat.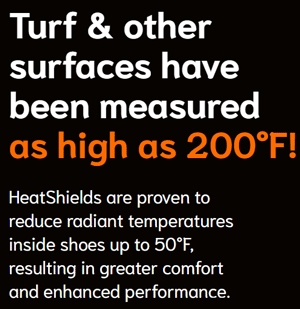 Knowing that your feet help control body temperature, the Greggs family spent 6 years to develop and extensively field-test shoe inserts that reduce temperatures inside shoes up to 50 degrees!
THE HEATSHIELDS SOLUTION
Because skin, including the soles of your feet, can burn at 110 degrees F, HeatShields will increase comfort and may avoid burn injuries.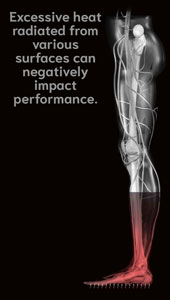 Because a higher body temperature can result in dehydration, fatigue and muscle cramps, HeatShields shoe inserts will also have an impact on performance.
In the summer of 2020, the Greggs, with their hearts of service, took their aerospace technology-filled shoe inserts, filed a patent and launched HeatShields.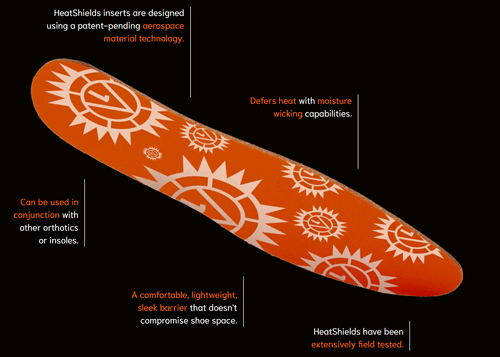 Besides serving athletes, coaches, and sports officials, HeatShields are extremely versatile and effective in a variety of occupations and activities from construction, roofing, and highway maintenance to hiking, athletics, and military training.
THE UMPIRE CONNECTION
Since their product launch, Leanne & Mckenzie have been taking HeatShields on the road from Newport, Tennessee to the LakePoint Sports Complex outside Atlanta, Georgia where PBR national baseball tournaments are played on turf.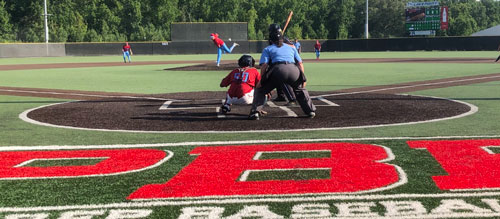 The group there who just might love HeatShields the most are umpires. Most work multiple games a day (or more) in 90F+ degree temps that's even hotter on turf.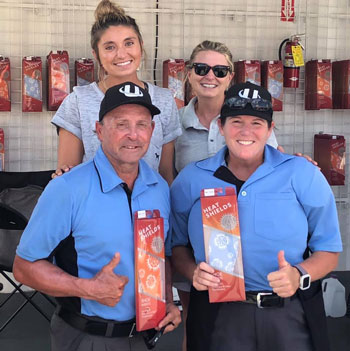 We heard from many umpires there who swore by them, including Scott Boring. He had consulted with Leanne after a long day umpiring on the hot turf where he had, indeed, burned the soles of his feet. Scott said:
"Now, I'm a tough guy. I can tolerate pain. But this truly hurt. These HeatShields inserts are the real deal. I now have them in all my plate and base shoes. And the Greggs, they are fantastic people."
Umpire Cedric Williams elaborated,
"I bought me two pair and must say they work. With smoldering temperatures in NC, I worked at High Point Rockers Stadium which is turf as well as this weekend. And my feet feel great. Thanks again Leanne and Mckenzie for the insoles."
Hearing more glowing reviews from other umpires at LakePoint, including assigner Todd Marler, I had to see them for myself. As I was in the area, I stopped by and was sold right away on the product and the Greggs.
AVAILABLE TO SPORTS OFFICIALS
We hear often that "hot feet" are a problem among umpires across the country, especially with the development of more turf fields. Because of that and a summer heatwave, I was convinced we had to get this product to umpires and sports officials right away!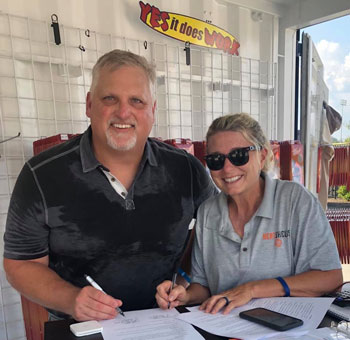 Therefore, we negotiated a deal on the spot to become HeatShields 1st retailer. I then packed 200+ pairs into 2 suitcases and a carry-on to bring back to Louisville HQ to make available to ship without delay.
Now available to serve you, you can say "Goodbye!" to hot, tender feet and experience greater comfort and performance on those hot, turf fields.

Buy a pair for each of your officiating shoes today!
INSTRUCTIONS
Slide your shoe insert on top of or under your current insole. You can also use it as a standalone insole. If you wear orthotics, wear the HeatShields underneath.
HeatShields inserts won't compromise shoe space, and they'll mold to your feet in as early as one day.
Available in wide range of men's sizes that should fit all women and youth sports officials, too.
FAQ
Can I wash them?
Recommend hand washing and air dry.
Can I cut them?
Do not recommend cutting.
How do they run?
They are very true to size for men and women. They mold to inside of shoe and foot.
How long do they last?
Typically through a season of play.
Do the colors make a difference?
No. It is strictly preference.
Do they need to be in freezer to activate?
No that is simply and added cool treatment to the feet at the end of a long day. Freezing does help odor.
Related Articles
About the Author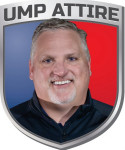 President Jim Kirk
Jim is a leading expert, educator and author on umpire gear, safety & appearance. After playing baseball at Centre College, he worked as a high school umpire. He became involved in E-Commerce while working on an MBA in the early 2000s and bought Ump-Attire.com in 2006, He eventually led it to the leading umpire gear & attire retailer worldwide, a "Best Places to Work in Louisville" honor in 2020 & 2021 and a National Association of Sports Officials (NASO) Preferred Vendor. He maintained a long-standing relationship with Minor League Baseball Umpire Development & Training Academy for 10 years. He serves as an adviser to UMPS CARE Charities, the charity of MLB umpires, served as a 2-term board of director from 2012-2018, and was named their 2015 Ambassador Award recipient. A supporter since the inception of the Wounded Warrior Umpire Academy, he was named to their Board of Directors in 2020.