Ask Ump-Attire.com: New Q & A Feature is Latest Online Shopping Upgrade
May 24th, 2018
On product pages, you've seen our customer reviews, alternative photos, videos and more. Add to that a new section called "Questions About this Product", or what we call our "Q & A" section.
Ask any question about a product, and one of our sports officials gear & apparel experts will answer for all to see right on the product page.
We try to think of everything we can say about a product in the product description. The "Q & A" section allows us to fill-in-the-gaps where and when customers want more information.
In a short time, customers have asked over 500 product questions. To see the Q & A Feature, go to any product page, and look above the "Customer Reviews" section. You will see the header:

Log in to ask your question(s).
Sample Q & As include:




Related Articles
About the Author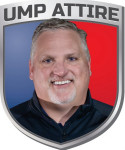 President Jim Kirk
Jim is a leading expert, educator and author on umpire gear, safety & appearance. After playing baseball at Centre College, he worked as a high school umpire. He became involved in E-Commerce while working on an MBA in the early 2000s and bought Ump-Attire.com in 2006, He eventually led it to the leading umpire gear & attire retailer worldwide, a "Best Places to Work in Louisville" honor in 2020 & 2021 and a National Association of Sports Officials (NASO) Preferred Vendor. He maintained a long-standing relationship with Minor League Baseball Umpire Development & Training Academy for 10 years. He serves as an adviser to UMPS CARE Charities, the charity of MLB umpires, served as a 2-term board of director from 2012-2018, and was named their 2015 Ambassador Award recipient. A supporter since the inception of the Wounded Warrior Umpire Academy, he was named to their Board of Directors in 2020.