MLB Umpires Jeff Nelson and Ted Barrett at The Umpire School
Feb 26th, 2015
While at The Umpire School over the last four years, I have seen a number of current and former MLB umpires stop by and share their time and insights to students. Those include:
Ted Barrett
Gary Cederstrom
Bruce Froemming
Chris Guccione
Jeff Nelson
Alfonzo Marguez
Ed Rapuano
Dutch Rennert
Tim Timmons
Joe West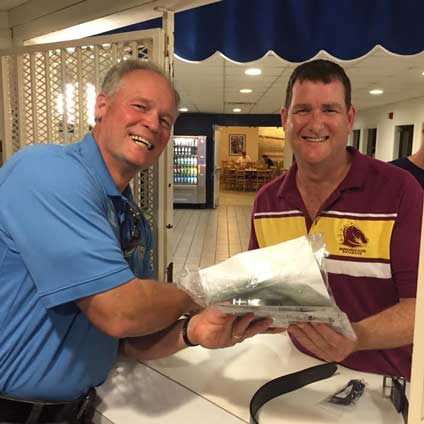 Ted Barrett stops by every year and spends several days. We always enjoy him stopping by our showroom and serving as honorary staffer where he provides valuable gear tips to students. This year he provided a quick lesson on handling excess umpire mask strapping cutting to desired length then burning (with a lighter) or using black electrical tape. In the photo above he hands Aussie Mick Cumming an order delivered from the office.
Jeff Nelson served as this year's banquet guest speaker in a Q-and-A session with students. What impressed me about Jeff is how humble he is despite working 3 World Series, including Game 7 last year. My three take-aways from his talk were:
1) How he uses mental visualization during his pre-game routine. For instance, if he has 2nd base that day, he'll run plays through his head that typically occur there (e.g. steal plays).
2) It's important to never be too high or too low regarding the job you do as you can be easily humbled by a missed call at any level.
3) Even the top umpires get nervous before a big game, though they may not admit it.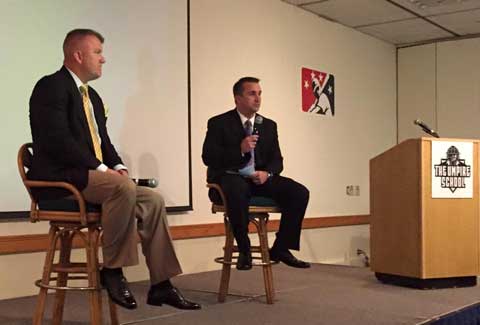 Related Articles
About the Author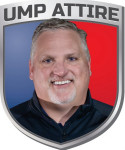 President Jim Kirk
Jim is a leading expert, educator and author on umpire gear, safety & appearance. After playing baseball at Centre College, he worked as a high school umpire. He became involved in E-Commerce while working on an MBA in the early 2000s and bought Ump-Attire.com in 2006, He eventually led it to the leading umpire gear & attire retailer worldwide, a "Best Places to Work in Louisville" honor in 2020 & 2021 and a National Association of Sports Officials (NASO) Preferred Vendor. He maintained a long-standing relationship with Minor League Baseball Umpire Development & Training Academy for 10 years. He serves as an adviser to UMPS CARE Charities, the charity of MLB umpires, served as a 2-term board of director from 2012-2018, and was named their 2015 Ambassador Award recipient. A supporter since the inception of the Wounded Warrior Umpire Academy, he was named to their Board of Directors in 2020.