Jim's Day with Jim Joyce at UMPS CARE Golf Classic
Jan 30th, 2014
Each year we have sponsored the UMPS Care Golf Classic, I have played golf with a different MLB umpire. I have had the privilege of spending a day with Ted Barrett, Tim Timmons and Sam Holbrook. Yes, I am blessed, I know.
But this year, I was informed the night before the round that I would play golf with Jim Joyce. Yes, that Jim Joyce. I had never before met "Jimmy" as his fellow umpires call him.
I still can't put my finger on it, but my initial reaction to my playing partner was different than previous years. No offense to Ted, Tim and Sam, but this time I was nervous. Call them butterflies if you will. I rarely get nervous about anything, but I was. How would you feel if you knew you could spend a few hours with Jim Joyce, or any other favorite umpire for that matter?
Maybe I had made him out to be someone larger than life. He certainly has been popular in the media the last few years.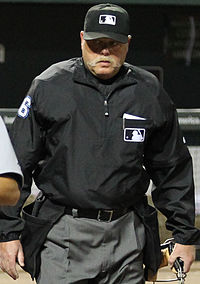 He'll forever be known for his sincere apology in missing the call in Andres Galarraga's near perfect game. But if not for that, he'd still be famous just for saving the life of an Arizona Diamondback staffer en route from the umpire locker room to the field. Can you say that you ever saved someone's life on the way to calling a game?
Add to that, he has worked the World Series three times, was named best overall umpire in an ESPN Magazine poll of all players and made our list of All-Time World Series Umpires in our 2012 Facebook poll.
So, yeah, I was nervous. It was Jim Joyce.
So what was my take after spending the much of my day with him? Sure, we got to talk about some of his umpire stories from above. But his umpiring credentials aside, I fell in love with Jim Joyce as a person. He was as down-to-earth as any person I had ever met. Genuine, friendly, funny, kind, honest, caring, etc – all the good stuff. Ever met someone for the first time and felt like you have known them your whole life? That's Jim Joyce.
Overall, it was a great day with Jim, his son Jimmy and former minor league umpire Joel Myers. And yes, to me, Jim Joyce is still larger-than-life.
If you want to have an experience with a MLB umpire, like I did, simply sign up to get involved in either the UMPS CARE 100 Holes Marathon each November or the Golf Classic each January. Or look for "Lunch with an Ump" experiences that can be purchased during UMPS CARE online auctions in the Spring.
UMPS CARE is the charity of Major League Umpires who are dedicated to making a difference in the lives of children and families in need. For more information about UMPS CARE Charities, visit www.umpscare.com.
Joel Myers, Jimmy Joyce, Jim Joyce and Me
Related Articles
About the Author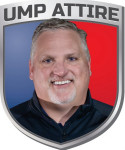 President Jim Kirk
Jim is a leading expert, educator and author on umpire gear, safety & appearance. After playing baseball at Centre College, he worked as a high school umpire. He became involved in E-Commerce while working on an MBA in the early 2000s and bought Ump-Attire.com in 2006, He eventually led it to the leading umpire gear & attire retailer worldwide, a "Best Places to Work in Louisville" honor in 2020 & 2021 and a National Association of Sports Officials (NASO) Preferred Vendor. He maintained a long-standing relationship with Minor League Baseball Umpire Development & Training Academy for 10 years. He serves as an adviser to UMPS CARE Charities, the charity of MLB umpires, served as a 2-term board of director from 2012-2018, and was named their 2015 Ambassador Award recipient. A supporter since the inception of the Wounded Warrior Umpire Academy, he was named to their Board of Directors in 2020.