Encounter with the Legendary Joe Brinkman at the Umps Care Golf Classic
Feb 18th, 2016
Each January, we are proud to sponsor of the Umps Care Charities Golf Classic (this is our 7th or 8th year...losing count). As a sponsor, one benefit is that you are paired up with at least one MLB umpire in your fivesome. It's really a great way to meet and mingle with MLB umpires and worthy of you to consider if you are a golfer, supporter of UMPS CARE, fellow umpire or all the above.
I've been fortunate to play with and get to know MLB Umpires Ted Barrett, Sam Holbrook, Jim Joyce, Alan Porter, DJ Reyburn and Tim Timmons over the years at the Golf Classic.
Typically, I find out who I am to golf with the morning of the scramble by the names on our group's golf carts. This year, I was excited to see the name Joe Brinkman alongside mine on the cart's placard.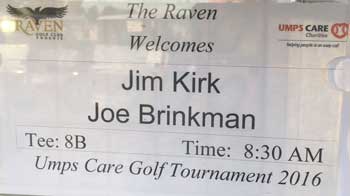 To me, Joe Brinkman was in first place for most popular in-umpire-circles person who I had not met. But to those who know anything about umpiring, Joe Brinkman is a legend.

You might think of him as the man behind the Joe Brinkman Umpire School. He ran the school for 17 years, most of the time in Cocoa, Florida. In the line of umpire schools, he bought the Bill Kinnamon Umpire School in 1972, then he sold it to Jim Evans in 1988. There are so many umpires who made it to the majors who went to Brinkman's that Joe couldn't tell me for sure just how many that was.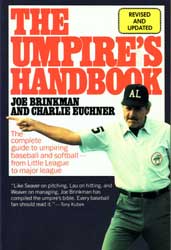 You might think of him as the man who was an MLB umpire for 35 years. He has umpired more American League games than anyone else and is 5th most in all games.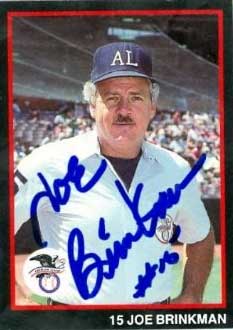 You might think of him as the umpire in the infamous pine tar game. He was crew chief and helped make the decision to overturn Brett's home run because of excessive pine tar on his bat. He was the umpire who restrained Brett after he came charging out to plate umpire Tim McClelland.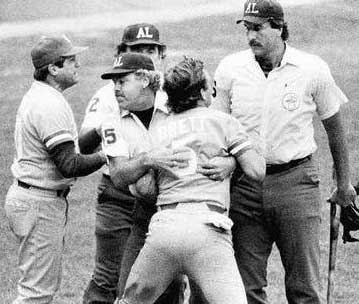 For me, when I spend any time with a former MLB umpire, I like to talk umpire gear and safety. Joe shared insights his insights on several areas.
On Chest Protectors
He recalled how fond he was of moving from a balloon style umpire chest protector to inside one. Two benefits included them being much more comfortable and being able to see the low strike better.
On umpire masks
He discussed that umpire masks that weighed heavier during his tenure contributed to less head injuries because they absorbed more force. However, as a downside the increased weight lead to an uptick in neck injuries, especially because umpires were taught to lean in more with their stance. The increased angle of the neck caused additional stress on the neck, and neck surgeries among umpires were common.
on positioning
Discussing safety, Brinkman shared that one of the best ways he feels an umpire can stay safe behind-the-plate is to back up. He recalled that he often was criticized by his superiors for doing this. He revealed that he didn't teach this at his school "because they didn't want you to do it that way".
on ball bags
A funny story Brinkman shared about being in Kansas City on an extremely hot day. He said he was sweating so much that he had water coming out of his shoes. Back then, the ball bags were not waterproof and the baseballs were getting wet. He worked out an agreement with the ball boy to throw in a ball when Joe signaled to him. The plan worked except someone at the home office who had seen the game called the next day to ask "What the heck were you doing?!"
The crew also included:
Current MLB umpire Jerry Meals. Jerry got his start, like many of you, umpiring little league baseball and was one of the MLB umpires who attended Brinkman's. He went on to become a World Series Umpire in 2014.

Retired MLB umpire Deryl Cousins. He umpired 33 years and in 3 World Series. Most significant to this Brinkman-centered article, was that Cousins and Brinkman umpired more games together than anyone ever in the majors.

Current Triple-A (Pacific Coast League) Umpire Nick Manley, one of the several MiLB umpires who volunteered at the event, joined in.
No overturning this call. It was a good day.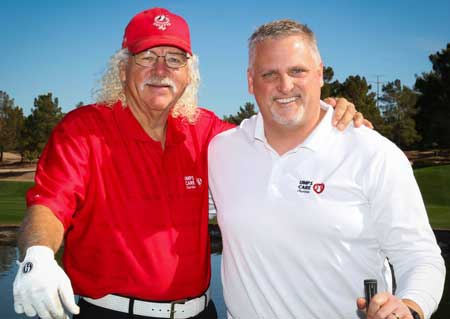 If you want to have an experience with a MLB umpire, support UMPS CARE through their 100 Holes Marathon each November, the Golf Classic each January and look for "Lunch with an Ump" experiences available during the UMPS CARE online auction in the Spring.
UMPS CARE is the charity of Major League Umpires who are dedicated to making a difference in the lives of children and families in need. For more information about UMPS CARE Charities, visit www.umpscare.com.
Source for MLB Umpiring Stats: Wikipedia
Related Articles
About the Author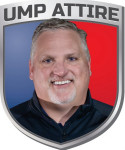 President Jim Kirk
Jim is a leading expert, educator and author on umpire gear, safety & appearance. After playing baseball at Centre College, he worked as a high school umpire. He became involved in E-Commerce while working on an MBA in the early 2000s and bought Ump-Attire.com in 2006, He eventually led it to the leading umpire gear & attire retailer worldwide, a "Best Places to Work in Louisville" honor in 2020 & 2021 and a National Association of Sports Officials (NASO) Preferred Vendor. He maintained a long-standing relationship with Minor League Baseball Umpire Development & Training Academy for 10 years. He serves as an adviser to UMPS CARE Charities, the charity of MLB umpires, served as a 2-term board of director from 2012-2018, and was named their 2015 Ambassador Award recipient. A supporter since the inception of the Wounded Warrior Umpire Academy, he was named to their Board of Directors in 2020.