FROM THE ASHES: How Thomas Edison Inspired Our Company to Survive the 2020 Sports Shutdown
Jun 17th, 2020

Thomas Edison's legendary response to his 1914 factory fire was
"Go get your mother and all her friends. They'll never see a fire like this again."
I took COVID-19's effect on our business with a similar attitude. We did not have a fire. However, in the 1st weeks of the sports shutdown, our business was down a MASSIVE 95% in sales over the same period as a year before.
The Challenge & Our Goals
Call it a 100-year challenge. Call it a real-life stress test. Call it whatever. Regardless, the thought of Thomas Edison and his response to his factory fire was emblazoned on me throughout this time.
I knew we had built a SUCCESSFUL business. But had we built a SUSTAINING business? Early on, that answer was truly uncertain.
In true Edison form, I eagerly wanted to know and created 5 goals to find the answer.
1. Stay in Business

For the few orders we had, I wanted to ship them out. We get orders from all over the world, and we felt we were essential for each customer.
We also wanted to be available to process returns. We knew there would be some from cancellations. And that meant money in people's pockets who needed it. Several days, we had more returns and credits than sales.
Staying in business also meant staying in constant communication with customers through social media, email and Zoom calls.
2. Take Care of Staff and Families
This included keeping them safe. We furloughed several staff who either had an underlying health issue or had someone at risk at home.
We made sure furloughed staff knew how to apply for unemployment (These were our first layoffs in 14 years of business).
We implemented CDC sanitary and social distancing guidelines at work including allowing some staff to telecommute.
3. Pay Our Bills

At the height of mid-March, we owed our suppliers nearly a half-million dollars. This is not atypical when we ramp up inventory for the season. Due to terms our suppliers give us and brisk sales, we can handle that...at least when there is not a pandemic!
As a result, we kept in communication with suppliers, renegotiated terms and made payments by credit card to extend payables, when necessary.
This, with a freeze on non-essential office expenses and an assist from the Paycheck Protection Program and our bank, allowed us to also insure monthly rent and payroll were covered - you know, to keep the lights on.
4. Do Something Good

We launched a 10K Buy-One-Donate-One Cloth Mask Donation Program. At the time of writing, we are at 9,600+ sold and 9,600+ donated to 23 hospitals & non-profits in 14 states.
We organized a Coronavirus Guide for Sports Officials and published several articles on unemployment resources, personal safety and states sports re-openings.
I helped create and launch the Umps Care Charities Blue Crew Insiders, a new giving program geared to amateur umpires with major league benefits.
5. IMPROVE FOR WHEN CUSTOMERS RETURN
We focused on adding more helpful videos, maintaining discounts to make it easier for customers who lost game fees and launching customer experience-focused e-commerce enhancements.
The main highlights were a new "How-to Library" for umpire gear & apparel, the Super Summer Sale and a major website cart and checkout update.
Mission Accomplished

Turn the clock ahead 3 months later, and with sports starting back in 2/3rds of the states to date or soon, business is back to near-normal!
Each goal was accomplished. Sustaining business? Check!!
Thomas Edison would be proud. Hopefully, just like his factory fire,
"We'll never see anything like this again."
SPECIAL THANKS
And the biggest: Customers, Friends & Followers - without you, nothing is possible.
Oh, and Mr. Edison.
Related Articles
About the Author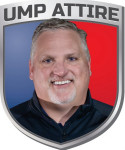 President Jim Kirk
Jim is a leading expert, educator and author on umpire gear, safety & appearance. After playing baseball at Centre College, he worked as a high school umpire. He became involved in E-Commerce while working on an MBA in the early 2000s and bought Ump-Attire.com in 2006, He eventually led it to the leading umpire gear & attire retailer worldwide, a "Best Places to Work in Louisville" honor in 2020 & 2021 and a National Association of Sports Officials (NASO) Preferred Vendor. He maintained a long-standing relationship with Minor League Baseball Umpire Development & Training Academy for 10 years. He serves as an adviser to UMPS CARE Charities, the charity of MLB umpires, served as a 2-term board of director from 2012-2018, and was named their 2015 Ambassador Award recipient. A supporter since the inception of the Wounded Warrior Umpire Academy, he was named to their Board of Directors in 2020.