Umpire and Referee Store Near Me
Aug 26th, 2022
We know it's hard to find an umpire or referee store near you where you can go to pick up a full uniform.
Here are your options in order of what we think will work best for most:
Shop online
Pick from over 900 items here at Ump-Attire.com in multiple sports and try them in your own home. Spend enough to get free shipping. Take advantage of free returns by sending back what you don't want on us.
IN-STORE SHOPPING
There are a small handful officiating-only sporting goods stores in the U.S. who are open during business hours and some Saturdays. Check Google for a search of "Umpire Store Near Me" for baseball or softball and "Referee Store Near Me" to see.
CUSTOMER PICK UP
We offer customer pick-up for all items within driving distance to Louisville, Kentucky.
GENERAL SPORTING GOODS STORES
Larger sporting goods stores such as Dick's and Academy have limited items (e.g. whistles, ball bag kits, polyester referee and umpire shirts and sometimes an umpire pant) for curbside pickup or in-store shopping.
Related Articles
About the Author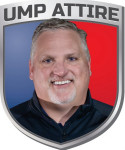 President Jim Kirk
Jim is a leading expert, educator and author on umpire gear, safety & appearance. After playing baseball at Centre College, he worked as a high school umpire. He became involved in E-Commerce while working on an MBA in the early 2000s and bought Ump-Attire.com in 2006, He eventually led it to the leading umpire gear & attire retailer worldwide, a "Best Places to Work in Louisville" honor in 2020 & 2021 and a National Association of Sports Officials (NASO) Preferred Vendor. He maintained a long-standing relationship with Minor League Baseball Umpire Development & Training Academy for 10 years. He serves as an adviser to UMPS CARE Charities, the charity of MLB umpires, served as a 2-term board of director from 2012-2018, and was named their 2015 Ambassador Award recipient. A supporter since the inception of the Wounded Warrior Umpire Academy, he was named to their Board of Directors in 2020.