Social Distancing Behind Home Plate: Could This Solution Provide the Best Compromise for Umpires, Leagues & Safety?
Jun 8th, 2020
No one wants to umpire differently. Everyone wishes we could get back to baseball and softball without a pandemic - you know, to umpire like it's 1919-2019!
The good news is baseball will have resumed in over half of the U.S. by June's end.

Social Distancing Guidelines
The problem for umpires is some leagues and tournaments are requiring social distancing guidelines during COVID-19.
Those guidelines obviously present conflicts to traditional best practices in umpiring. Specifically, just as calling balls and strikes behind-the-mound has its own limitations, so does calling them 6 feet back from the catcher.

A Modified Plate Position Solution

Jason Blackburn, Coordinator of the Mid-American Umpire Clinic, D1 College umpire and assignor, provides his 2020 summer plate work solution that addresses both concerns.
"If you took a combination of the super slot (behind the batter), the Gerry Davis stance and Joe Brinkman's distance, this hybrid should work."
The diagram below provides a great visual of being further "back" from the catcher than usual. You are technically still in the slot there but more angled. This qualifies as a happy-medium "between" social distancing and optimal umpiring.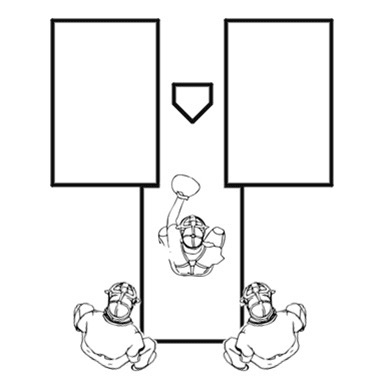 Jason added,

"I tried to stay on or behind the back line of the catcher's box, as far in the slot I could go and still be able to see the pitcher and square up to either the 2B or SS, instead of being square to the pitcher.
I pretty much worked my typical hands on knees/behind my knees stance. One time the batter crowded the plate and catcher shifted inside, and I dropped lower into the scissors."
Getting Used to It
Regarding his strike zone in this modified position, he said,
"I probably could have gotten a few more at the bottom of the zone - might have gone a little wide. Some of it is just trying to get used to being in that position. I would say after 2-3 plates of seeing pitches from that position, it will be a lot better."
Regarding catchers, Jason shared,
"Several times the catchers backed up towards us. I got the feeling they weren't very comfortable without an umpire right behind them."
SAFETY
We wanted to share "Blackburn's Back & Between" positioning also from a traditional safety perspective. Joe Brinkman taught us the further back you are, the less you get hit.
Could this COVID-modified position "back" further in the slot develop into a model of a happy-medium "between" coverage & personal protection for umpires in 2020 and beyond?
Learn More
Thanks to Jason for his leadership and insights. To learn more about his umpire clinic, visit the Mid-American Umpire Clinic website.
Related Articles
About the Author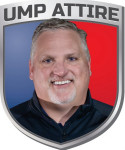 President Jim Kirk
Jim is a leading expert, educator and author on umpire gear, safety & appearance. After playing baseball at Centre College, he worked as a high school umpire. He became involved in E-Commerce while working on an MBA in the early 2000s and bought Ump-Attire.com in 2006, He eventually led it to the leading umpire gear & attire retailer worldwide, a "Best Places to Work in Louisville" honor in 2020 & 2021 and a National Association of Sports Officials (NASO) Preferred Vendor. He maintained a long-standing relationship with Minor League Baseball Umpire Development & Training Academy for 10 years. He serves as an adviser to UMPS CARE Charities, the charity of MLB umpires, served as a 2-term board of director from 2012-2018, and was named their 2015 Ambassador Award recipient. A supporter since the inception of the Wounded Warrior Umpire Academy, he was named to their Board of Directors in 2020.