FOR IMMEDIATE RELEASE: The National Association of Sports Officials (NASO) Names Ump-Attire.com as a Preferred Vendor
Aug 1st, 2018

The National Association of Sports Officials (NASO) announced that sporting goods retailer Ump-Attire.com is now a Preferred Vendor.
Under the agreement, Ump-Attire.com provides online access for a 10% discount to NASO's 26,000 members. Members are able to use the discount on Ump-Attire.com's 600+ officiating gear and apparel and qualify, along with other customers, for free shipping offers and free returns.
Each NASO member is able to use their NASO email address when signed into Ump-Attire.com in order to access the Preferred Vendor benefits. Registered Members will be able to access their discount feature without needing to remember a coupon code or having to call to place an order.
Along with their discount, NASO members will have access to Ump-Attire.com account features including: retaining their contact information for faster checkout, viewing and/or reordering from their purchase history, creating and sharing wishlists, asking questions and submitting product reviews.
"We're very excited to be able to provide such a valuable NASO member benefit through Ump-Attire.com. They've been very involved with NASO and Referee for many years, and it's clear that Jim Kirk and his staff care deeply about officials and officiating", said Jim Arehart, Chief Marketing Officer of NASO/Referee Magazine. "NASO members already know and trust their brand. We're looking forward to continuing this relationship for many more years, and NASO members will benefit greatly from it."
"We are honored that NASO, the most respected and largest organization for sports officials in the world, has chosen us as a Preferred Vendor", said Jim Kirk, President/CEO of Ump-Attire.com. "Being able to serve NASO members with a seamless, online program to access their officiating gear and apparel needs is something we are looking forward to and take very seriously."
About Ump-Attire.com
Ump-Attire.com is the leading retailer for umpire and officials' sporting goods. Headquartered in Louisville, Ky., its website is consistently rated No. 1 as a result of its quality selection, extensive product information and videos, 4,000+ customer reviews, real-time inventory, expected delivery dates, same-day shipping, world-class customer service and free returns. Visit www.ump-attire.com for more information.
About NASO
NASO's mission is to serve as the leading source of sports officiating information, programs and services. NASO thrives to serve members by providing benefits and services, improve sports officiating performance through educational programs and training materials, advocate opportunities for sports officials and engage in programs to recruit and retain officials, create alliances with organizations that benefit from healthy sports officiating programs, and enhance the image of sports officials. For more information about the National Association of Sports Officials, visit www.naso.org.
Click here for step by step instructions to access your 10% discount.
Related Articles
About the Author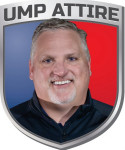 President Jim Kirk
Jim is a leading expert, educator and author on umpire gear, safety & appearance. After playing baseball at Centre College, he worked as a high school umpire. He became involved in E-Commerce while working on an MBA in the early 2000s and bought Ump-Attire.com in 2006, He eventually led it to the leading umpire gear & attire retailer worldwide, a "Best Places to Work in Louisville" honor in 2020 & 2021 and a National Association of Sports Officials (NASO) Preferred Vendor. He maintained a long-standing relationship with Minor League Baseball Umpire Development & Training Academy for 10 years. He serves as an adviser to UMPS CARE Charities, the charity of MLB umpires, served as a 2-term board of director from 2012-2018, and was named their 2015 Ambassador Award recipient. A supporter since the inception of the Wounded Warrior Umpire Academy, he was named to their Board of Directors in 2020.