LIVE EVENTS
The Dish
LIVE VIRTUAL EVENT: A Conversation with Baseball Rules Academy Founder & Cincinnati Reds Sportscaster Chris Welsh with Special Guest MLB Crew Chief Ted Barrett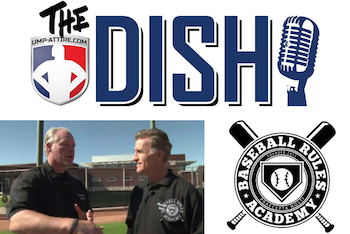 Watch Chris & Ted talk to our President Jim Kirk about Baseball Rules Academy and the upcoming 2021 season.

Join us on Facebook Live or our YouTube channel where they'll be answering questions and providing a special offer.
Monday, January 25th, 2020 - 8 PM ET
Watch Here
---
WATCH Past Events
For More Videos Like This, Watch "the Dish"


VIRTUAL ROAD SHOW & GEAR CLINICS
Book Us for Your Next Event

We understand umpire safety and appearance and are ready to educate your group for you. The same level of expertise we bring yearly to the MiLB Umpire Training Academy is available to you virtually at no cost. Topics include:
Umpire Safety 101 for Rookies (Jim)

Appearance 101 for Rookies (Ty)

Advanced Umpire Safety (Jim)

Advanced Umpire Appearance (Ty)

Proper Gear, Footwear & Uniform Care (Ty)

Current Trends in Umpire Gear & Apparel (Jim or Ty)

What's New This Season (Ty)

LEADERSHIP SERIES: Community Involvement & Volunteer Opportunities for Your Association (Jim)
Each session can be tailored for your group for 45 minutes to an hour+ with Q & A and door prizes. Invite one of us to your next association or league virtual call (or in-person) event.

To book, email events@ump-attire.com