What Umpire Gear & Apparel Minor League Baseball Umpires Wear
Oct 4th, 2018
Ump-Attire.com is the proud official sponsor and uniform supplier of Minor League Baseball® Umpires.
As of the 2018 season, all full-season Minor League Umpires receive a $300 voucher for gear and apparel at Ump-Attire.com.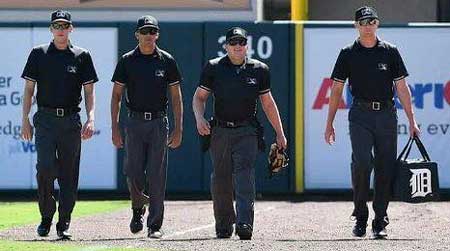 Every MiLB umpire must wear the approved uniform. The equipment they use is their call. As the official supplier, we share our insights on their favorite products.
Mask

No Clear Winner

With all the different frames, colors and brands of masks available, umpires show their individuality and preferences through their mask choice. MiLB umpires are no exception.
Chest Protector

Champion Body Armor Umpire Chest Protector

You might be surprised to see this, but the Champion's combination of low profile and great value make this the most popular choice among MiLB umpires.
Shin Guards

Wilson MLB Platinum Umpire Shin Guards

The most popular shin guard for MiLB umpires is the same as for all umpires across all levels.
Plate Shoes

New Balance V3 Mid-Cut Black & White Umpire Plate Shoes

No surprise on NB plate shoes but most MiLB umpires do choose the mid-cut style over the low-cut.
Base Shoes

New Balance Low-Cut Black & White Umpire Base Shoes

MiLB umpires tend to prefer some white on their shoes for contrast, like most baseball umpires. For the bases, low-cut is more popular than mids.
Belt

1 3/4" Hi-Gloss (Patent) Leather Umpire Belt

The final count was 55% to 45% patent leather to genuine leather for MiLB umpires. The 1 3/4" is far and away the most popular width size.
Ball Bags

Force3 Dry-Lo Umpire Ball Bag

You will be happy to know that ball bags designed by former MiLB umpire Mark Lollo are worn most by current MiLB umpires.
Replacement Mask Pads

Team Wendy Replacement Umpire Mask Pads - Black

If it's good enough in U.S. military helmets, then it's good enough in MiLB umpire masks.
Compression Shirt

New Balance Challenger Mock Neck Short Sleeve Compression Shirt

We helped design it. MiLB umpires made this their most popular. We exploded into high-fives!
Tights or Shorts?

Under Armour HeatGear Compression Tights

With MiLB umpires, it is tights by far for both plate and base. For them, the HeatGear fabric works best throughout the season's range of temperatures.
Gloves

Franklin All-Weather Pro Gloves

These are the best gloves for umpires on the market, and MiLB umpires are wise enough to make this one their favorite.
Indicator
Champro 4-Dial Optic Yellow Steel Umpire Indicator - 3/2/2

And you thought the high visibility optic-yellow 4-dial indicators were only for softball umpires.
Plate Brush

Plastic Umpire Plate Brush

The thin handle fits best in the back pocket where most MiLB umpires store their plate brush.
Lineup Holder

6" Pro Grade Magnetic Umpire Lineup Holder

Over a long season, MiLB umpires require the durability of a pro grade lineup card holder. The 6" is the most popular size due to lengthier lineup cards used by MiLB teams.
Writing Pen

Red Zebra Quick-Dry Gel Pen

With so many lineup changes, red stands out the most. That and the quick-dry Zebra ink makes this the most popular pen of MiLB umpires.
Disclaimer: We are just having fun with this article and in no way are any of the non-uniform products endorsed by Minor League Baseball or the Association of Minor League Umpires.
Related Articles
About the Author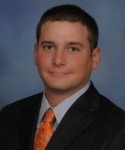 Marketing Assistant, Pro School Umpire Graduate Josh Mann
Josh Mann, a native of Chicago, attended the University of Arizona where he completed a Bachelors Degree in General Studies of Economy and Industry and a Sports Management minor. His umpire career began in his hometown of Northbrook, Illinois while he was in high school. Going to college in Tucson, Arizona allowed Josh to continue his umpire career while earning his degree. After gaining experience, Josh attended The Umpire School (now known as Minor League Baseball Training Academy) and Harry Wendelstedt Umpire School. With his education, he umpired in the Frontier Professional Baseball League for three seasons. Josh lives in Louisville, Kentucky. He enjoys baseball, golf, hockey, and spending time at the park with his dog Wrigley.