The Best Basketball Referee Shoes
Sep 20th, 2023
The best basketball referee shoes for you depends on what you want in an on-court referee shoe. Pick which comment sounds most like you, and we'll tell you which are the best. See where the NEW Smitty Court Maxx 1 lands in the ranks.
"Comfort is Most Important to Me"
The top basketball referee shoes combining comfort and weight are:
"A Professional Look is a Must for Me."
If a professional look is about either all-black shoes and/or having traditional patent leather, both 3n2 styles, cover those 2 criteria. If you don't like patent leather, Smitty looks most like a traditional basketball referee shoe. The leather is a rich black with a white S on the heel. Shoes with mesh, Asics and New Balance won't have the darker black.
The top professional looking basketball referee shoes are:
"I Have a Wider Foot. Most Officiating Shoes are Too Narrow for Me."
Fortunately, you have options. 3n2 Reaction Patent Leathers have 2E (wide) options. Smitty's Basketball Referee Shoe has a "friendly" D width. I am between a D and 2E shoes, so narrow D's don't work for me. The Smitty shoe fit me best.
The top basketball referee shoes for wider feet are:
3n2 Patent Leather (D and 2E width options)


Smitty Court Maxx 1 (Friendly D)

Ascis GT-1000 11 (D with mesh that stretches)
"I HAVE SMALL FEET. MOST REFEREE SHOES AVAILABLE DON'T FIT ME."
3n2 Reaction Patent Leather are the only shoes available in size 6-7.5 (men's) or 7.5-9 (women's).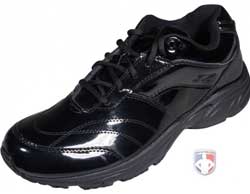 "The Shoes I want should Last Multiple Seasons. I Don't Like Getting a New Pair Each Season."
The hands-down winner here are the Smitty basketball referee shoes. All the features, from the midsole down to the sole are extremely durable and made out of quality materials - including genuine leather.
The Top Basketball Referee Shoes in Durability are:
Summary
So, which are the best basketball referee shoes? Of the 4, only the 3n2 and Smitty brands are made specifically for basketball referees.
If you prefer patent leather, the best is the 3n2 Reaction. If you don't like patent leather, the best is the Smitty's. The best mesh is the Ascis.
About the Author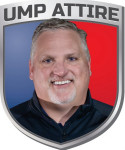 President Jim Kirk
Jim is a leading expert, educator and author on umpire gear, safety & appearance. After playing baseball at Centre College, he worked as a high school umpire. He became involved in E-Commerce while working on an MBA in the early 2000s and bought Ump-Attire.com in 2006, He eventually led it to the leading umpire gear & attire retailer worldwide, a "Best Places to Work in Louisville" honor in 2020 & 2021 and a National Association of Sports Officials (NASO) Preferred Vendor. He maintained a long-standing relationship with Minor League Baseball Umpire Development & Training Academy for 10 years. He serves as an adviser to UMPS CARE Charities, the charity of MLB umpires, served as a 2-term board of director from 2012-2018, and was named their 2015 Ambassador Award recipient. A supporter since the inception of the Wounded Warrior Umpire Academy, he was named to their Board of Directors in 2020.