Ump-Attire.com Launches New YouTube Channel
Oct 18th, 2016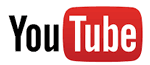 We are pumped about our YouTube Channel. It's something that's been on our to-do list for a long time.
Scott Kennedy, our resident umpire / referee and personality, is spearheading our video efforts and will be serving as your host.
Scott used the daily Facebook LIVE promotions we did in September to get acclimated in front of the camera and to get video ideas from fans.
If you go to the YouTube channel now, you'll see 7 videos. It includes recent Facebook LIVE videos we were able to archive and a 3-part discussion on umpire concussions; of which Scott and I did together in part 2.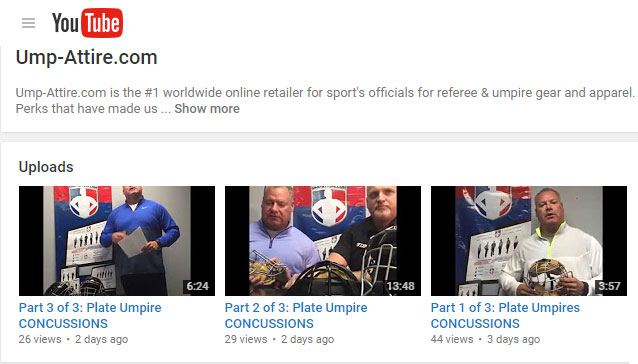 Scott has on his agenda this week to complete "How to Crease Your Umpire Cap" and is hoping to squeeze in some product reviews of umpire masks and chest protectors. Just in discussing these videos with him, I learned a thing or two myself. So, I'm sure if you tune in, it will be as enlightening as it is entertaining.
You can visit the channel and look for the "Subscribe" button. Once you subscribe, you'll be notified when we publish a video.
We have a long list of ideas and welcome any you have. I am certainly looking forward to the value the channel can provide to all our customers. Giddy-up and come along for the ride!
Video
Sample Video
Scott starts it off in our first Facebook LIVE video.
Related Articles
About the Author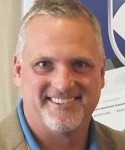 President/CEO Jim Kirk
Jim has had a passion for sports since he can remember. After playing baseball at Centre College, he worked as a high school umpire in Kentucky - during the Elbeco shirt years - as a way to make ends meet. He became involved in E-Commerce while working on an MBA in the early 2000s and eventually bought Ump-Attire.com in 2006. Jim is proud of Ump-Attire.com's success, staff and sponsorship of various groups including Minor League Baseball Umpires, Minor League Baseball Umpire Training Academy and UMPS CARE, the charity of MLB umpires. He served on their board of directors and was named their 2015 Ambassador Award recipient. Jim has also coached youth and middle school baseball 10 years.