The Neighborhood Box Score (Community Good Highlighted) - September 2020
Sep 6th, 2020
Shining a light on all the good in the community (summarized) for September 2020.

Umps Care Charities
Fall Auction Launched September 10th-17th.

Bid Here »
2020 100-Hole Golf Marathon on September 14th with Gary Darling, Dan McGinnis, Scott Taylor, Brenda Bishop & Matt McMahon. Donate Here »
Was highlighted in NY Governor Cuomo's

"Tonight's "Deep Breath Moment" nightly email.
"For children undergoing treatment at The Children's Hospital at Montefiore, many feel isolated with limited visitors allowed and playrooms closed. The Major League Baseball umpires charity UMPS CARE delivered stuffed animals dressed as superheroes to help keep the kids' spirits up."


Wounded Warrior Umpire Academy
2020 Virtual Summit on Sept. 9th with 8 guest speakers was a major hit! Complete with inspirational stories in the morning with a baseball focus, including MLB's Mike Everitt, our Jim Kirk & LLWS Umpire Kelly Dine; the afternoon with a military veteran focus including testimonials from WWUA Alumni. Morning Video

|

Afternoon Video
President & Major Greg Wilson's WWUA Overview & Summit Preview Interview with Jim on "The Dish". Watch 1+ Hour Video ».

Battlefields 2 Ballfields
Provided 15 complete sets of uniforms for veterans starting out as sports officials in football (9),

basketball (3),

baseball (2) and volleyball (1).

NASO (NATIONAL ASSOCIATION OF SPORTS OFFICIALS)

UMPIRE TRAINING & DEVELOPMENT | mid-american umpire clinic | Umpire Training Institute
Each entity is hosting camps this fall in Myrtle Beach and Ft Myers (UTD), Springfield, Missouri (MAUC) and Phoenix and Tucson (UTI). Full Calendar »

MilB/MLB
MLB raising awareness for childhood cancer with umpires wearing gold ribbons and wristbands. Full details ».
The largest debut of MiLB umpires into MLB just increased. Complete List ».

Ump-Attire.com
Donated $1,250 to the Randy Harvey GoFundMe account, former ACC & SEC umpire battling a rare blood disease, from purchases of the #UmpireStrong bracelet. Full details »
Jim & Ty presented "PROTECTION: Beyond the Basics at the NASO Virtual Summit where they disucssed 5 Trends in Officiating Sporting Goods. Watch 1+ Hour Video ».
EXTRA INNINGS
Custom pin

created for long-time Little League umpire Jason Fackler & his battle with ALS - organized by umpire Mark Bernstein.

Find Mark on Facebook »
YOUR TURN
Miss anything good going on in the sports officiating neighborhood? Please share in the comments below.
Related Articles
About the Author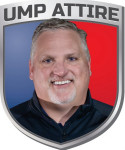 President Jim Kirk
Jim is a leading expert, educator and author on umpire gear, safety & appearance. After playing baseball at Centre College, he worked as a high school umpire. He became involved in E-Commerce while working on an MBA in the early 2000s and bought Ump-Attire.com in 2006, He eventually led it to the leading umpire gear & attire retailer worldwide, a "Best Places to Work in Louisville" honor in 2020 & 2021 and a National Association of Sports Officials (NASO) Preferred Vendor. He maintained a long-standing relationship with Minor League Baseball Umpire Development & Training Academy for 10 years. He serves as an adviser to UMPS CARE Charities, the charity of MLB umpires, served as a 2-term board of director from 2012-2018, and was named their 2015 Ambassador Award recipient. A supporter since the inception of the Wounded Warrior Umpire Academy, he was named to their Board of Directors in 2020.