The Neighborhood Box Score (Community Good Highlighted) - August 5th
Aug 5th, 2020
Shining a light on all the good in the community (summarized).

Umps Care Charities
Named a Gold Whistle Award winner by NASO
5th Steaks & Stories on August 6th. The "Steaks" is for a partnership with Omaha Steaks to provide a significant discount for attendees. "Stories" is what you hear on the Zoom calls. Could be the best thing going on in baseball besides baseball. Details »
Launched the Blue Crew Insiders Program, a membership program/giving opportunity with exclusive benefits for amateur umpires. Details »

Wounded Warrior Umpire Academy
Symposium planned for Sept. 9th for the public due to camp being cancelled in June. Guest speakers to include MLB Mike Everitt. You'll want to stay tuned for more updates.
Named Jim Kirk to their Board of Directors, their first non-military member to the BOD. Bio »

Battlefields 2 Ballfields
Provided 14 complete sets of uniforms for veterans starting out as sports officials in football (10), baseball (2), basketball (1) and volleyball (1).

NASO (NATIONAL ASSOCIATION OF SPORTS OFFICIALS)
Is going virtual with its "Sports Officials Summit @ Home" August 24-27th. All the Details »

UMPIRE TRAINING & DEVELOPMENT | mid-american umpire clinic | Umpire Training Institute
Each entity is hosting camps this fall in Myrtle Beach and Ft Myers (UTD), Springfield, Missouri (MAUC) and Phoenix and Tucson (UTI). Full Calendar »

MilB/MLB
MLB Umpires wearing patches in honor of Rick Reed, Eric Cooper and Chuck Meriwether.
The largest debut of MiLB umpires into MLB this year. Complete List ».

Ump-Attire.com
EXTRA INNINGS
College World Series umpire Randy Harvey GoFundMe page created by Troy Fullwood -

ACC, Big South, and CUSA Supervisor of Officials.

See Page »
Online Poker Tournaments for long-time Little League umpire Jason Fackler & his battle with ALS - organized by umpire John Mertes. Find John on Facebook »
YOUR TURN
Miss anything good going on in the sports officiating neighborhood? Please share in the comments below.
Related Articles
About the Author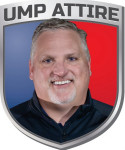 President Jim Kirk
Jim is a leading expert, educator and author on umpire gear, safety & appearance. After playing baseball at Centre College, he worked as a high school umpire. He became involved in E-Commerce while working on an MBA in the early 2000s and bought Ump-Attire.com in 2006, He eventually led it to the leading umpire gear & attire retailer worldwide, a "Best Places to Work in Louisville" honor in 2020 & 2021 and a National Association of Sports Officials (NASO) Preferred Vendor. He maintained a long-standing relationship with Minor League Baseball Umpire Development & Training Academy for 10 years. He serves as an adviser to UMPS CARE Charities, the charity of MLB umpires, served as a 2-term board of director from 2012-2018, and was named their 2015 Ambassador Award recipient. A supporter since the inception of the Wounded Warrior Umpire Academy, he was named to their Board of Directors in 2020.