Save Your Knees and Back When Working Bases: Another Tip from Stubby
Jan 10th, 2013
I was able to attend a Triple-A baseball game this summer with MiLB and Minor League Baseball Umpire Training Academy's medical coordinator Mark "Stubby" Stubblefield.

He's provided many tips to help keep umpires safe and healthy that I've blogged about before.

Stubby, always full of wisdom, provided one more tip I wanted to pass along.

The tip is basically pretty simple.
Don't lock in too soon when umpiring the bases.

Anytime you bend over and put your hands on your knees, thus locking in, you add pressure on the knees and lower back. In the course of a 3 hour contest, you're going to do this more than a few hundred times.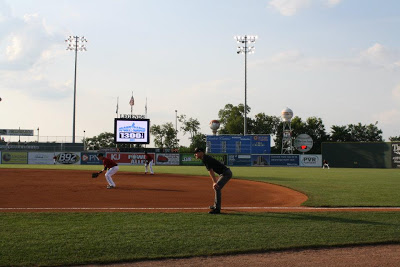 MiLB Umpire Charlie Tierney Locks In (Photo Credit: Jim Kirk)
So take it from Stubby, stay loose a little bit longer between pitches and minimize the added pressure by not locking in too soon.

Related Articles
About the Author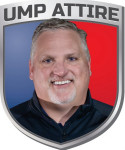 President Jim Kirk
Jim is a leading expert, educator and author on umpire gear, safety & appearance. After playing baseball at Centre College, he worked as a high school umpire. He became involved in E-Commerce while working on an MBA in the early 2000s and bought Ump-Attire.com in 2006, He eventually led it to the leading umpire gear & attire retailer worldwide, a "Best Places to Work in Louisville" honor in 2020 & 2021 and a National Association of Sports Officials (NASO) Preferred Vendor. He maintained a long-standing relationship with Minor League Baseball Umpire Development & Training Academy for 10 years. He serves as an adviser to UMPS CARE Charities, the charity of MLB umpires, served as a 2-term board of director from 2012-2018, and was named their 2015 Ambassador Award recipient. A supporter since the inception of the Wounded Warrior Umpire Academy, he was named to their Board of Directors in 2020.