After Kicking a Call...
May 26th, 2015
For baseball and softball umpires it's the nature of the game… While difficult to accept, an occasional blown call is going to happen no matter how prepared or engaged you are. It's how you handle it that will help you build a solid reputation as an umpire.
We recently asked our FB fans how they handle a blown call. Here's what they said:
Cory Ray: "Keep working. Don't let one missed call turn into two."
Mark Haitz: "Stand tall, take what's coming to me and move on!"
Gerry Mead: "Kick yourself, take a deep breathe, try to quickly figure why you blew the call, then continue with life."
Dan Hawks: "Move on. Refocus. Slow it down."
Daniel Grady: "Don't get rattled."
Ed Newbegin: "A quick mental slap to the frontal lobes and get on back to the game."
Tommy Hamkens: "Suck it up, take your beating (to a point) and move on."
Jason Palo: "Had one last night, I just shook my head and told myself, "you suck" and then I moved on. The coach that the call went against came up to me and I admitted that I blew that call."
David Loudermilk: "If the manager asks for help, and my partner has another angle, I go for help. if the manager gets in a fit, my partner doesn't have an angle, it is what it is. I don't like blowing a call anymore than a team likes me blowing a call."
Jason Dittburner: "Stand by your call and keep following the game with no make up call. If the coach comes out to argue, take the butt chewing and then tell him that is all you want to hear about it."
Steve Kling: "Take my lumps, think that I'm only human, vow to never make that mistake again, and wipe the slate clean for the next pitch."
Jason McGuire: "Just admit my mistake and move on."
Peter Bowe: "Take a minute to figure out how and why it was blown and then decide how to rectify a bad situation."
According to sports psychologist Michael Edger, who was recently quoted in Referee Magazine, sports officials must use 3 Rs for getting back on track after a bad call.
Recognize that your mind wasn't/isn't focused. his may mean taking your "lumps" to a certain point, admitting a mistake or asking for help and "hearing it" from a coach.
Regroup. Ask yourself, "What do I need to do to perform more successfully? Better position? Hustle?" Tell yourself, "Let's go! I'm better than that!" I believe it's what seasoned umpire Ed Newbegin refers to as a "quick mental slap to the frontal lobes."
Refocus/Reboot. Take a deep breath and get back at it. Like fan Steve Kling said, wipe your slate clean for the next play.
While you should never linger on your mistake during the game, it is important to always debrief with your partner(s) after the game. In all honesty, it may be hardest to admit mistakes to them, but in doing so, you will grow from their knowledge. On your own, It may also be wise to revisit the current rulebook if you need to get smarter about something.
Related Articles
About the Author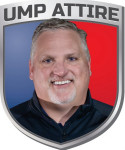 President Jim Kirk
Jim is a leading expert, educator and author on umpire gear, safety & appearance. After playing baseball at Centre College, he worked as a high school umpire. He became involved in E-Commerce while working on an MBA in the early 2000s and bought Ump-Attire.com in 2006, He eventually led it to the leading umpire gear & attire retailer worldwide, a "Best Places to Work in Louisville" honor in 2020 & 2021 and a National Association of Sports Officials (NASO) Preferred Vendor. He maintained a long-standing relationship with Minor League Baseball Umpire Development & Training Academy for 10 years. He serves as an adviser to UMPS CARE Charities, the charity of MLB umpires, served as a 2-term board of director from 2012-2018, and was named their 2015 Ambassador Award recipient. A supporter since the inception of the Wounded Warrior Umpire Academy, he was named to their Board of Directors in 2020.