NOT WHAT YOU THINK: Lengths of Wilson Chest Protectors
Jan 17th, 2011
Wilson West Vest chest protectors have been a standard for hard shell protection since umpire Joe West elected to use football shoulder pads as a model to make a new kind of umpire chest protector.

In the last several years, both the Gold and the Platinum have undergone some changes, especially length wise (that's neck to bottom), and the information on the changes have honestly not kept up very well. This blog post is meant to correct that.

So let's all go through a little hypnosis session and erase your memory on everything you think you know about the lengths of these popular CPs. Here we go:
"You are getting very sleepy...sleepy...", etc and so forth.
Ok, good, your memories are successfully erased on the subject. I just hope there is no collateral damage in erasing your knowledge on the infield fly rule in the process.

Wilson Platinum
WHAT YOU THOUGHT YOU KNEW
It comes in 13.5" and 10.75" inches lengths top to bottom.

WHAT IS ACCURATE
It comes in 12" and 10.75" inches. So 12", not 13.5".

A 10.75" platinum lying on a 12"
WHY THE CHANGE
MLB umpires felt the platinum was too bulky in the neck over a year ago so Wilson took out some protection in that area. This resulted in a less lengthy protector neck to bottom. However, this change did not get noted in the catalog or relayed to retailers. It was only when a customer alerted us that his 13.5" chest protector he received promptly in his package was not 13.5" that had us scrambling to find out what was going on.

WHAT NOW
As a result, we didn't want to lead you astray and changed this on our website a while back to 12". You will find competitors listing it still at 13.5". IT IS NOT CORRECT. Do forgive them for they know not what they do.

Wilson Gold
WHAT YOU THOUGHT YOU KNEW
It comes in chest sizes and all lengths are 12" inches.

WHAT IS ACCURATE
It does come in chest sizes but each size has a different length. The S/M is 11", the M/L is 12" and the L/XL is 12.75".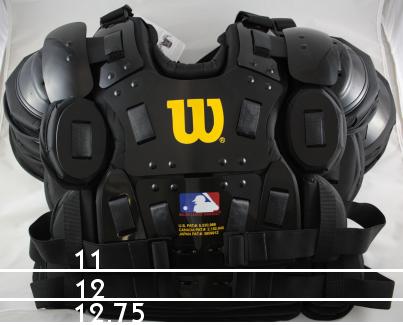 A S/M on a M/L on a L/XL with lines added showing the bottoms.
WHY THE CHANGE
I honestly don't know, nor do I even know when the change took place (I missed it), but I like it. Almost another inch as an option is a good thing.

WHAT NOW
We have changed the info on our website to correct this.

A New Wilson and Gold Comparison
While you always knew the Gold had thicker padding than the Platinum (and it still does), the prevailing thought was that if you wanted more length, you went with the 13.5" inch platinum over the 12" Gold. Right? I knew it! I am a mind reader, too.

Now that thinking should be opposite. If you want more length, then you go with the L/XL Gold at almost 13" rather than the Larger Platinum at 12". I'll say that again.
"The Gold in the L/XL is longer than the Platinum...
Buy one today."
Ok, I'm sorry that was just a little unprofessional of me to take advantage of you like that while you are in your vulnerable hypnotic state. I do apologize.
"When I snap my fingers, you will wake up and officially be a much smarter person."
I am sorry though I can't help you find where you put your keys this morning.

Questions? Comments?
Related Articles
About the Author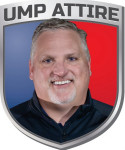 President Jim Kirk
Jim is a leading expert, educator and author on umpire gear, safety & appearance. After playing baseball at Centre College, he worked as a high school umpire. He became involved in E-Commerce while working on an MBA in the early 2000s and bought Ump-Attire.com in 2006, He eventually led it to the leading umpire gear & attire retailer worldwide, a "Best Places to Work in Louisville" honor in 2020 & 2021 and a National Association of Sports Officials (NASO) Preferred Vendor. He maintained a long-standing relationship with Minor League Baseball Umpire Development & Training Academy for 10 years. He serves as an adviser to UMPS CARE Charities, the charity of MLB umpires, served as a 2-term board of director from 2012-2018, and was named their 2015 Ambassador Award recipient. A supporter since the inception of the Wounded Warrior Umpire Academy, he was named to their Board of Directors in 2020.