MLB Style Shirts and Poly Spandex Umpire Pants Approved by Major NCAA Conferences
Nov 2nd, 2017
The ACC, SEC, PAC-12, WAC, Sunbelt, Atlantic Sun, OVC, Big West & Big South recently approved the following umpire uniforms for the 2018 season:
With or Without Expander Waistband

Related Articles
About the Author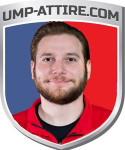 Marketing Assistant, Pro School Umpire Graduate Josh Mann
A native of Chicago, Josh graduated from the University of Arizona with degrees in Economy & Industry and Sports Management. He attended the Minor League Baseball Umpire Training Academy and Harry Wendelstedt Umpire School, umpired in the Frontier Professional Baseball League and worked in the Chicago Cubs Organization. Josh enjoys baseball, hockey, golf and spending time with his dog Wrigley.